Ken Smith and the Development of the Electric Bass
---
---
Who will go down as the inventor of the electric bass? Of course, everyone knows the name of Leo Fender, who created the first model of the electric bass, the Precision Bass.
There is no need to explain how revolutionary the Precision Bass and Jazz Bass were. In the 70's, more than 10 years after their appearance, the electric bass had broken away from the Fender monopoly and entered a period of development.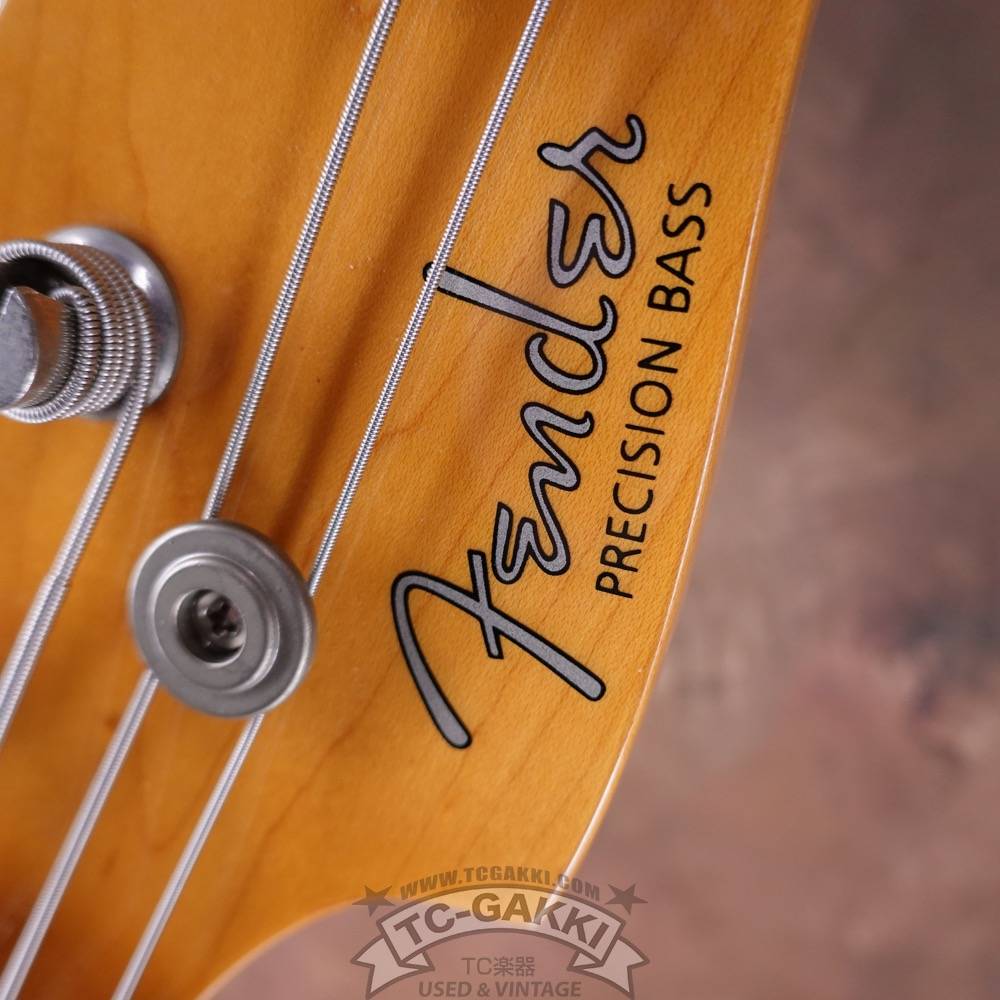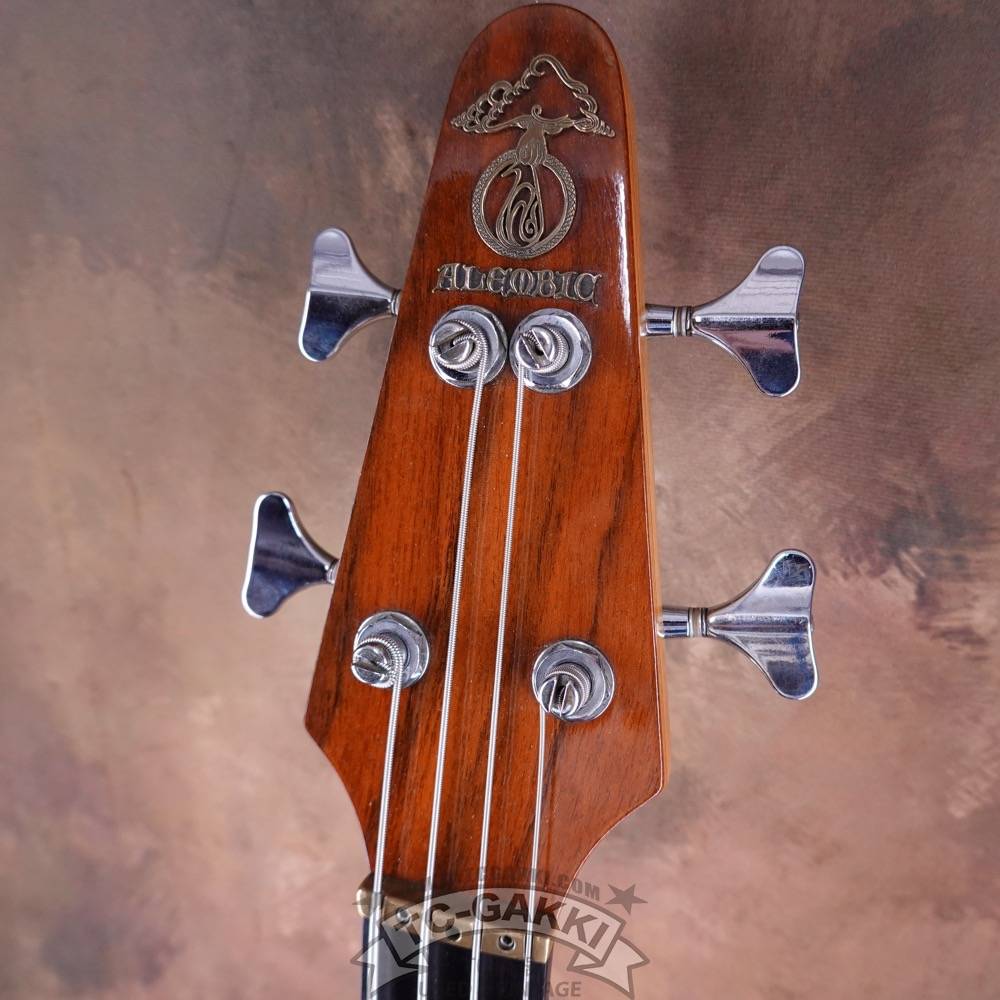 Rick Turner (Alembic) built the first active bass for Jack Casady in 1972.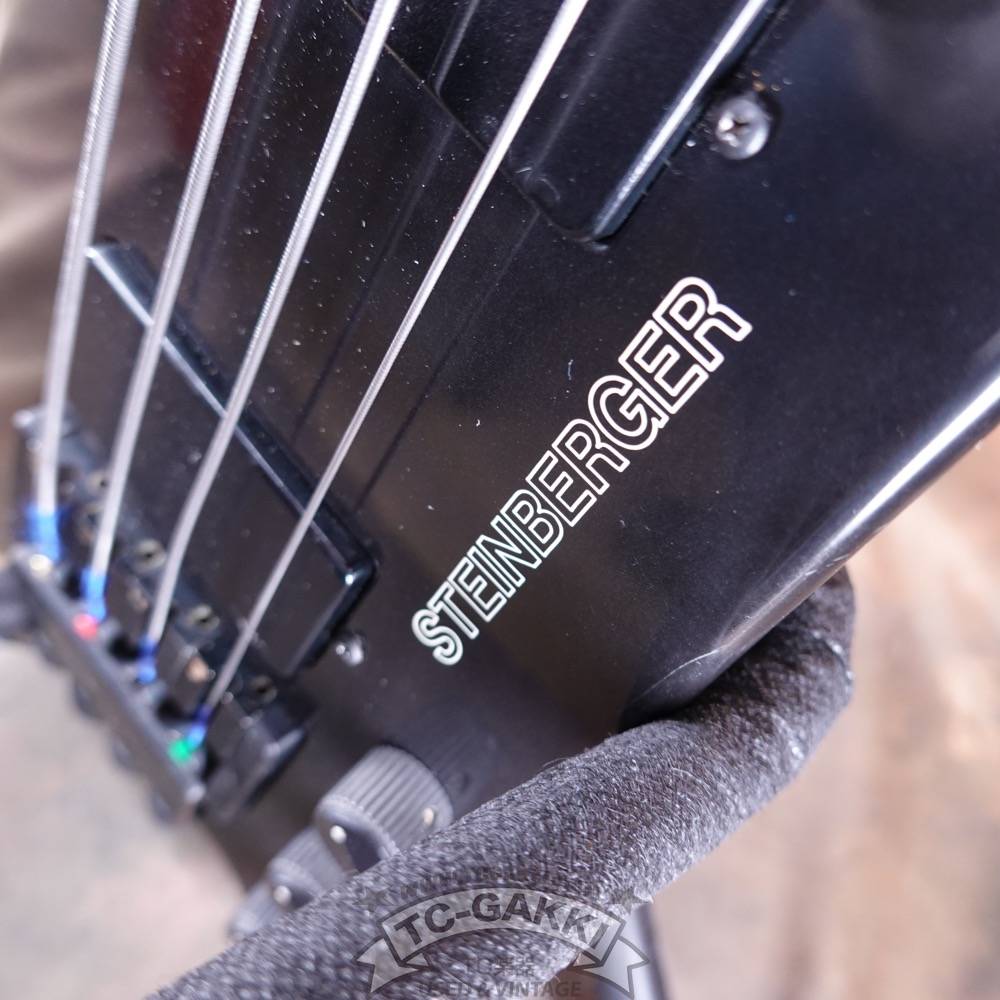 Ned Steinberger (Steinberger) who invented the headless, graphite neck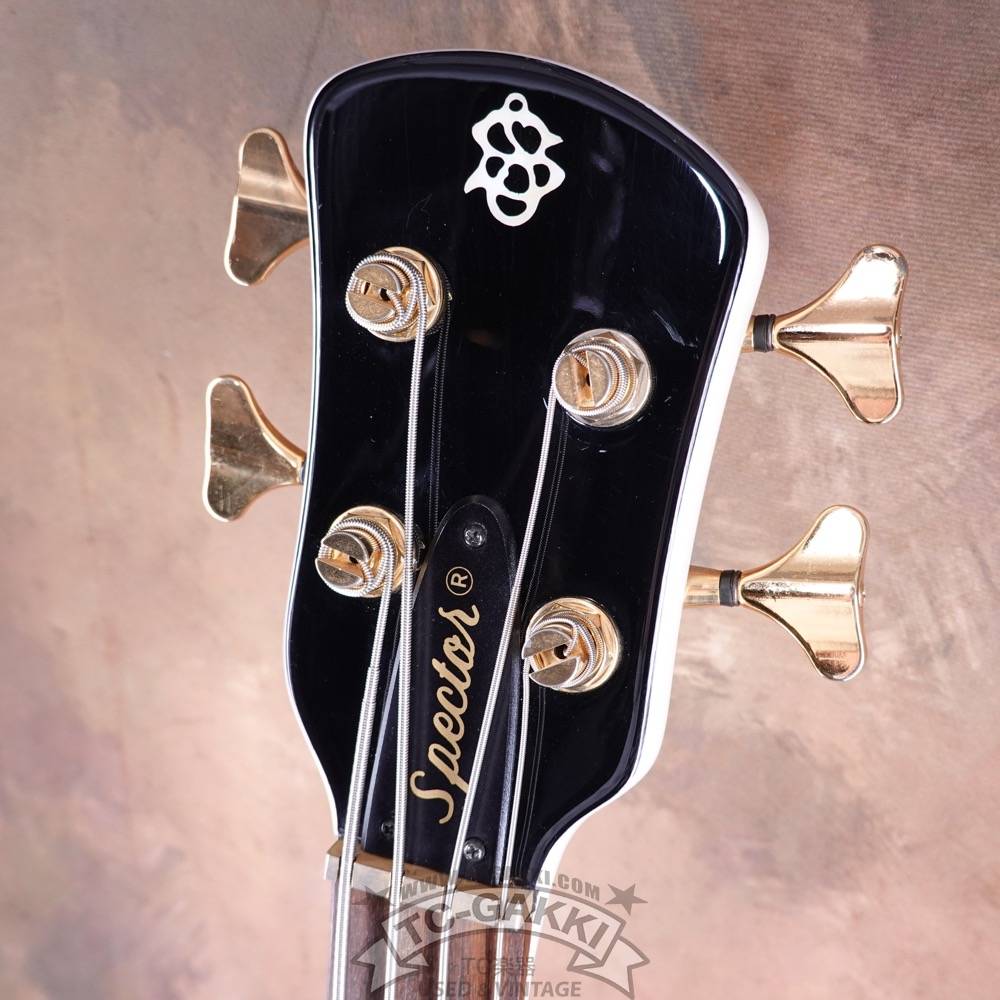 Stewart Spector, who teamed up with Steinberger to invent the compact modern bass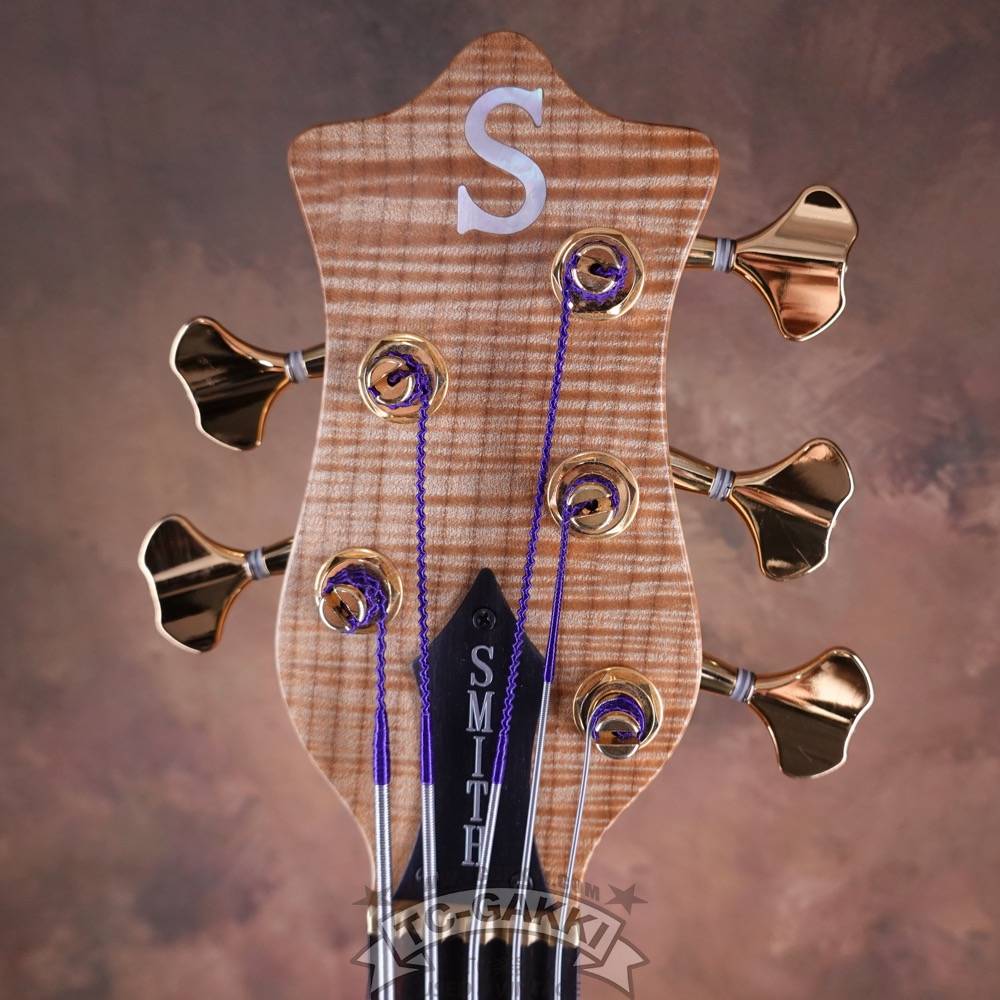 Ken Smith, who developed the revolutionary through-neck construction and tapered strings that are now commonplace
These four men are the inventors of the electric bass since the 1970s.
To be honest, it is no exaggeration to say that the development of the electric bass was completed in the 70s and 80s.
The following is a chronology of the major events of the 70's~80's
---
1972
Alembic is founded by Rick Turner, Ron Wickersham and Bob Matthews
built the first active bass for Jack Casady and Stanley Clark.
1975
A year before the five-string bass was introduced, Carl Tompson built a prototype six-string bass for Anthony Jackson, but it did not become a mainstay instrument because of its narrow pitch between strings, which made it difficult to play.
For a while after that, Anthony mainly used the "Career Girl Bass," a 70's Jazz Bass body with a 70's Precision Bass neck.
1976
PRS made the first 5-string bass for Tony Bang, but at the same time Alembic delivered a 5-string bass made for Jimmy Johnson, and by this small margin, Alembic was the first brand to bring a 5-string bass to market.
1977
Stuart Spector took on Vinnie Fodera as his first employee.
1978
Ken Smith left Spector to start his own Ken Smith workshop.
1980
Vinnie Fodera moves from Spector to Ken Smith.
1981
Six years after the first 6-string appeared, Anthony Jackson, who had been using a 4-string Career Girl bass as his main instrument, once again acquired a 6-string bass.
Ken Smith joined forces with him, and the bass was named Contrabass Guitar.
1983
Vinnie Fodera and Joey Lauricella, who was in charge of marketing for Ken Smith, teamed up to start Fodera Guitars.
(He also worked in the Ken Smith workshop until about 1986.)
This timeline shows that the modern electric bass has been largely shaped by the events and inventions listed here.
Of these, I am particularly fond of the builder and brand "Ken Smith".
Before establishing his workshop, Ken Smith had made a name for himself as a double bass and electric bass player, earning his living by writing commercials and radio jingles.
He was also skilled at repairing and modifying the instruments of musicians around him, and many artists in New York City turned to him for help.
Ken himself did not initially plan to start a bass brand, but his first bass, created in collaboration with Carl Thompson, inspired him to start his own workshop in New York City in 1978. Since then, his customers have included top-notch jazz and fusion bassists such as Anthony Jackson, John Patitucci, Felix Pastorius, and Melvin Davis.
Since he started his workshop, he has created numerous inventions that would later have a major impact on the electric bass world. Let's take a look at some of his major achievements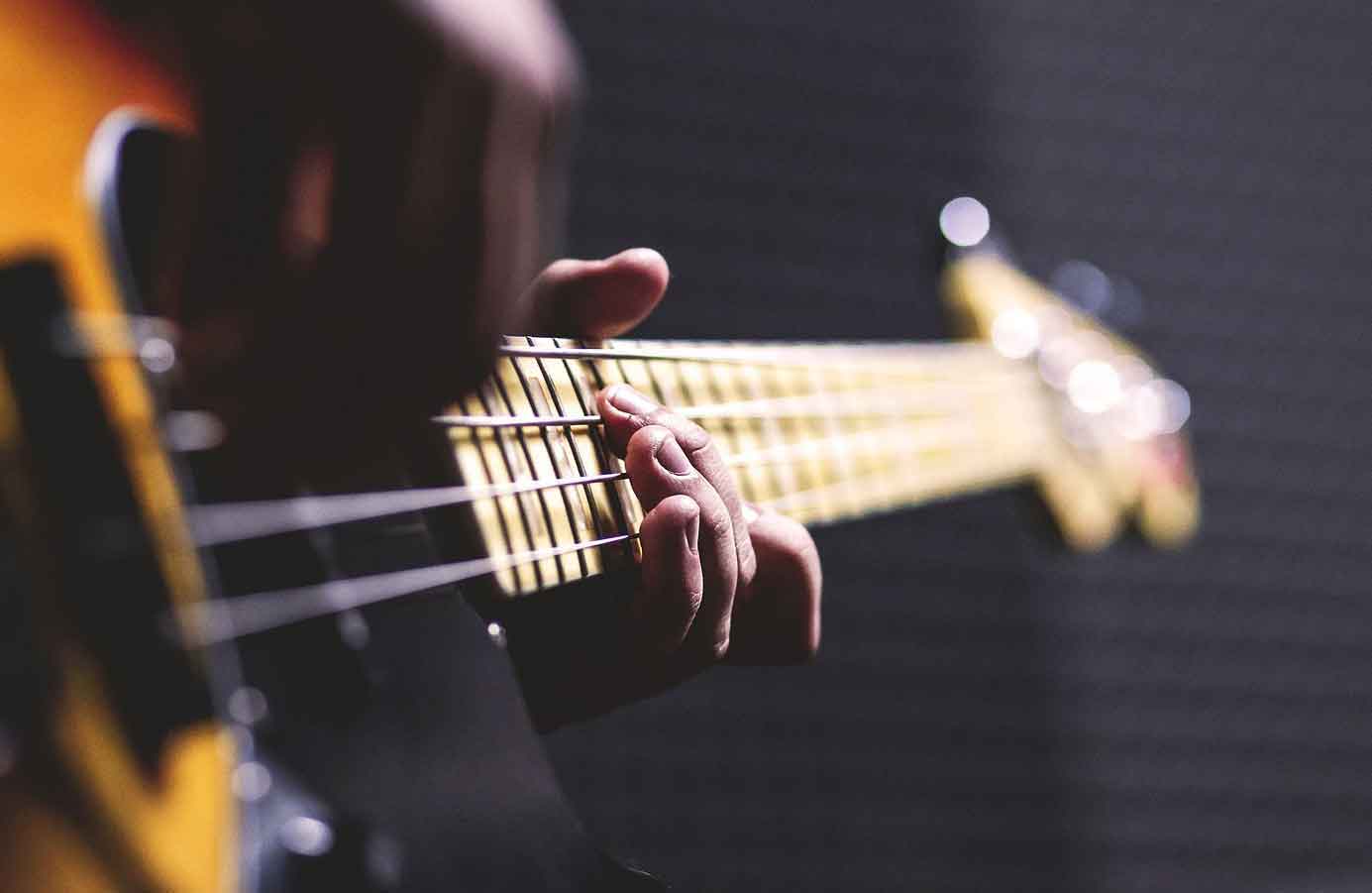 1978
First to use locking pins on electric basses.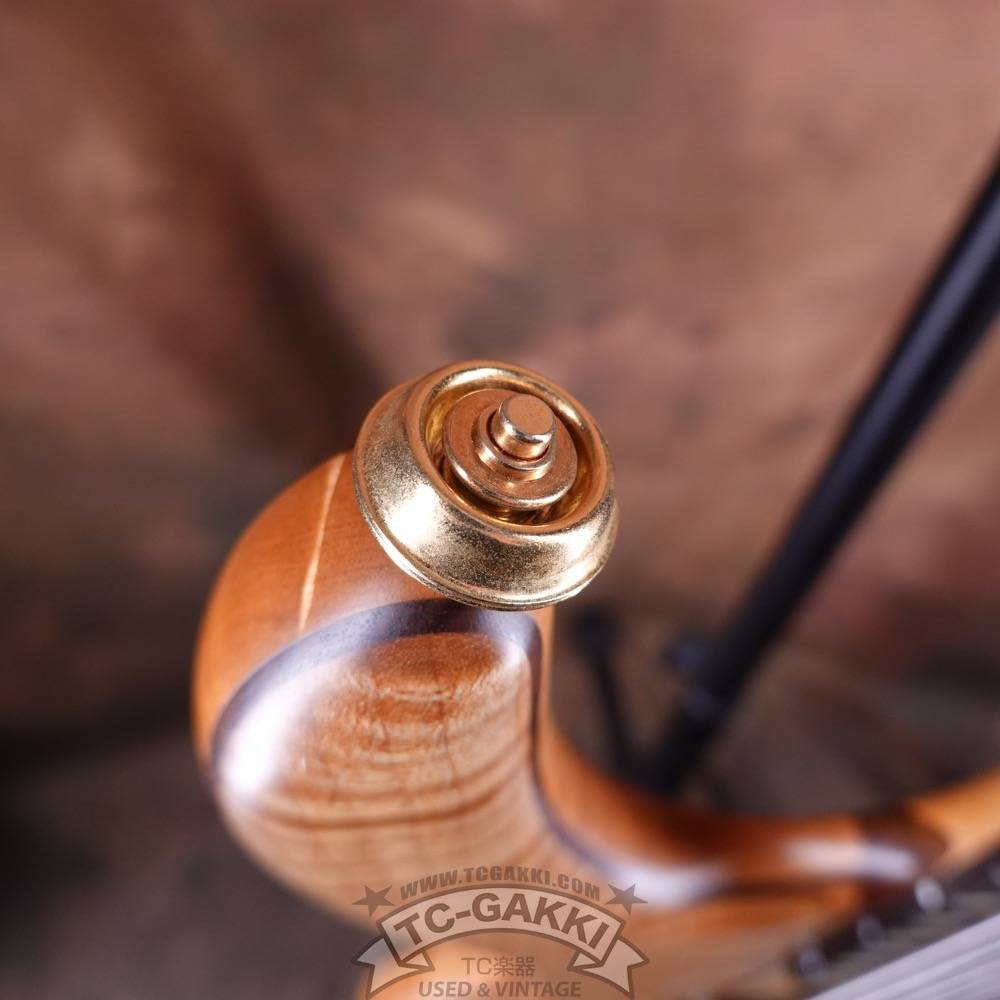 1979
Developed the now commonplace printed circuit board circuit.
First use of graphite for neck reinforcement.
Pickup balancer is developed and EQ control with center click is introduced.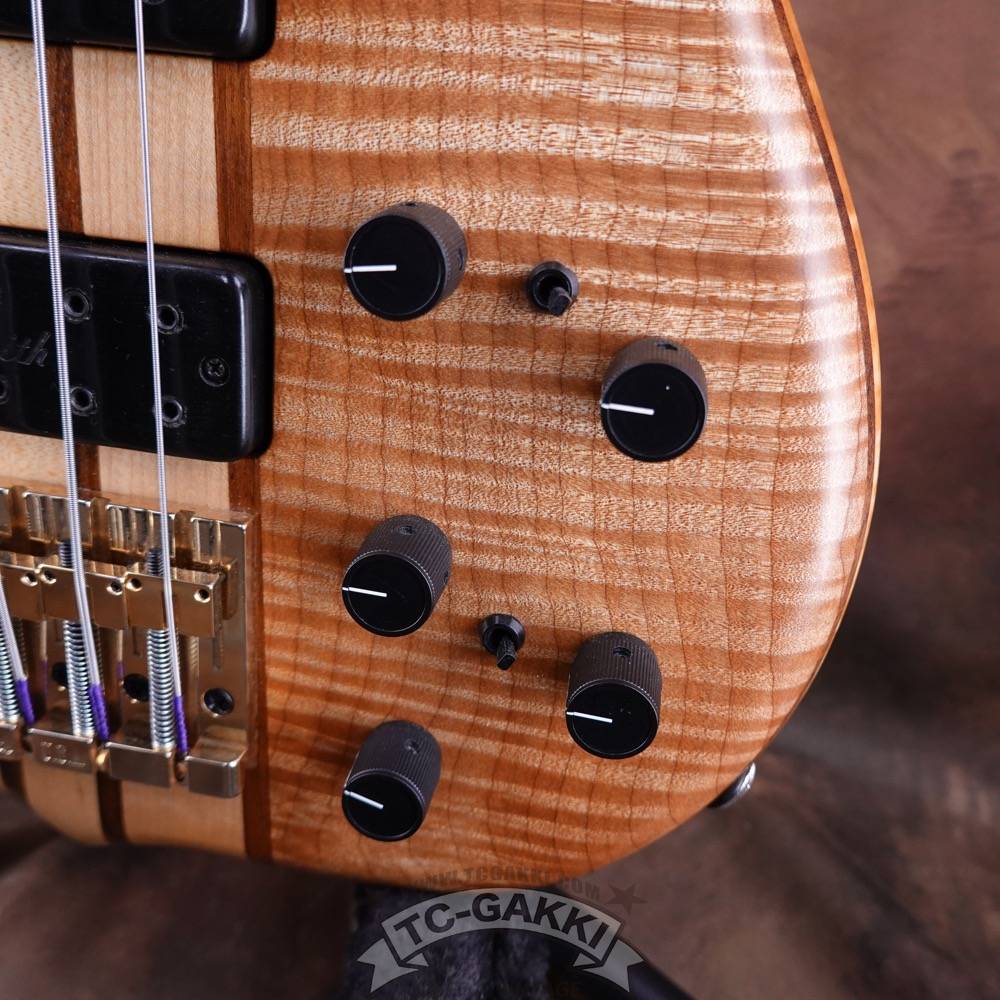 1981
Commercialization of a wide-neck 6-string bass.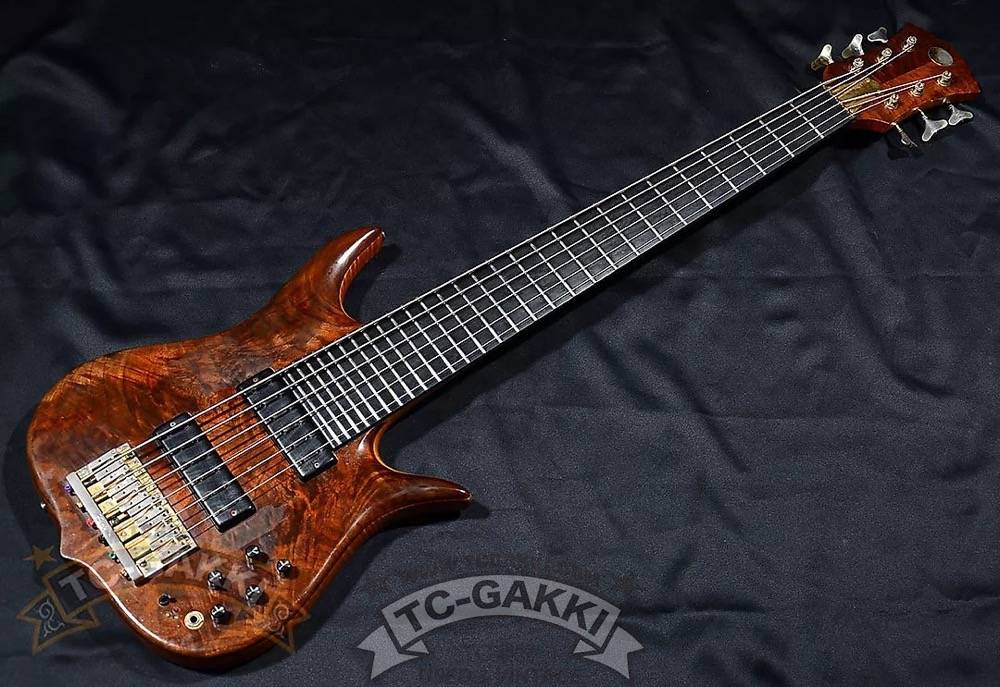 1983
Invents tapered core strings.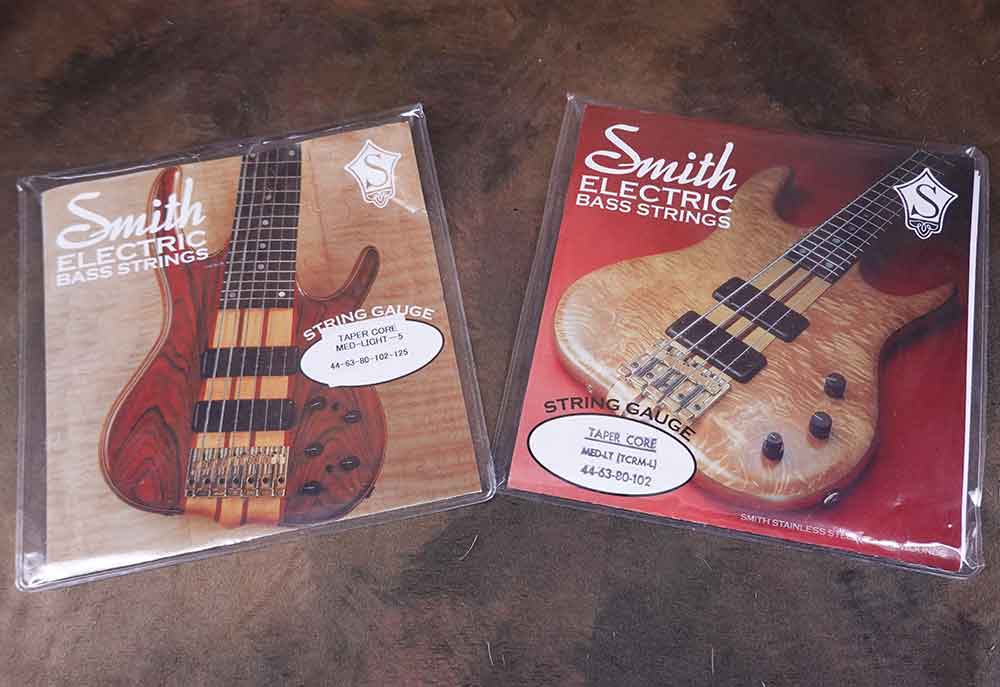 how do you like it?
Look at it this way,Ken SmithIt is difficult to imagine the world of the modern electric bass if Ken Smith had not existed.
He would have been1978Since starting his workshop in2023Since then, he has been doing the final checks, inspections, and adjustments himself. The control plate is signed by him, and only then is it shipped. In other words, no product can be made or shipped without his approval. Also, from 2019 to early 2023, Smith bases were made in partnership with Brubaker, but that is also the case.
AllSmithbase will have his own signature on it to guarantee quality through his own eyes.
I.Smith.What attracts me to the base is the original shape and all the parts.Smithoriginal, the intricate wood combinations, and the pure sound. All of these things match my musical tastes.
Luckily, I recently had a wonderful encounter,2018made in 1949.BSR5 White TigerI have a BSR5 White Tiger made in 1964. I love it more and more every time I play it.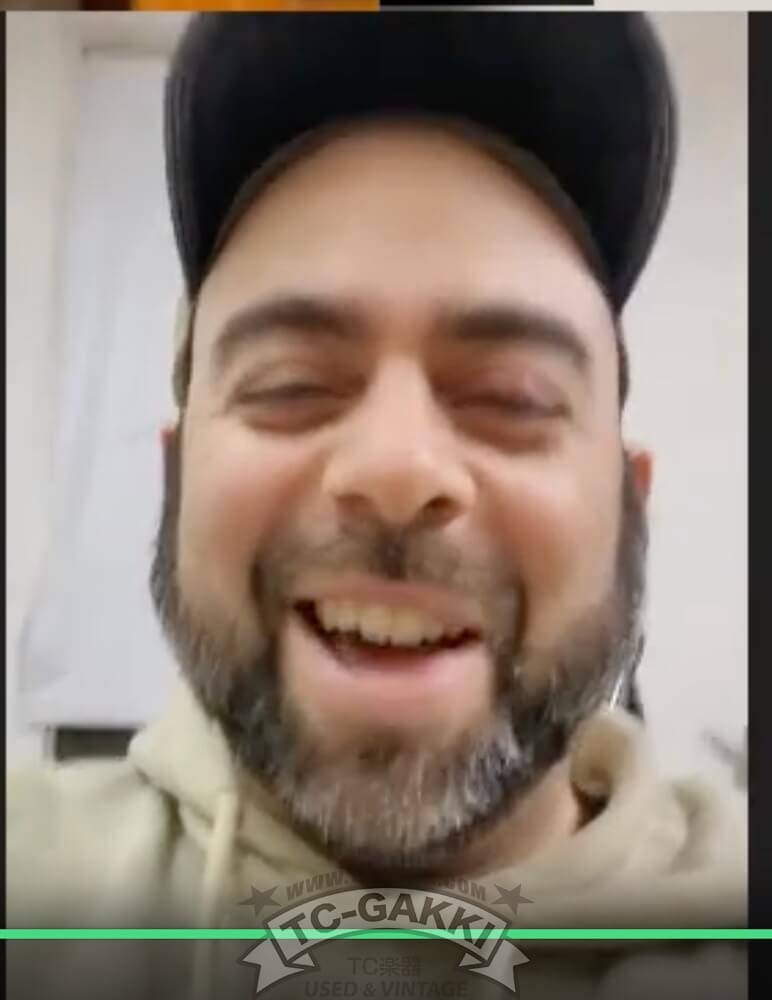 ---
Then, we received a mysterious email with a picture.
"Are you at all interested in purchasing a vintage Ken Smith?"
The photo we received was of a currentSmithThe bass is different from the current Smith bass, and its appearance may raise some suspicions. The head of that bass is very sharp, with a metal plate attached, and the bridge isBadasswas attached to the bridge.
"Made during Vinny Fodera time with Ken Smith.
Original bridge, Ken used Badass bridge at the time.Bass is in great shape, truss rod works the same. Very little wood oxidation, almost none.Bass is Bass is currently in Ken Smith shop.
Okay, I get that it's a terrific bass offer.
Now.Smith.store, is it under maintenance?
"I am offering to your shop because a friend of mine that was visiting your shop a few years ago, maybe in 2018 or 2019 said you had Anthony Jackson Ken Smith 6 string. so I thought of you for vintage basses."
Before in our store,Contrabass GuitarWe have previously received and sold a prototype of the Contrabass Guitar
We assume from this history that this offer was made with confidence in our store, but we need to be cautious when dealing from overseas.
Therefore, as we proceeded with questions, the other party suggested that we talk via video chat.
This was because it was thought that by actually seeing their faces, hearing their voices, and confirming their true identities, we would be able to gain a sense of security. Humble for an American.
---
"want me to ask Ken Smith to join as well?"
"Sorry. How do you know each other?"
"He is my father"
"What?"
The sender's name isJon Smithbut he is actuallyKen SmithI had no idea that he was actually the son of Ken Smith.
It is strange that I myselfKen Smith BSR5I just got a Ken Smith BSR5Ken SmithThe timing was right for my love affair with Ken Smith to be at its peak. We immediately set up a video chat,Jonand we were able to talk to Jon.
Now, we will touch on the important point of this event, the instruments that were offered.
Therefore, below is a photo of the instrument, as well as its historyJonThe following is a description of the history of the instrument, along with photos of the instrument, in the words of Jon
JonAfter we introduced ourselves to each other, he told me his own story.
---
"I bought a four string Ken Smith burner.
I know the burners are kind of popular, right?
So I messaged it was like guitar center. So I was like, hey, I'm interested in this place.
And I thought it was, like, very nice, very great condition."
How nice of him.USA Smithbut a Japanese-madeBurnerHe told me that he had a Japanese-made Burner, not a
When I heard this story, I secretly wondered if it was a rebellion against my father.
Then,JonwasKen SmithHe showed me around his workshop.
There is aKen SmithThere are photos of famous musicians with their basses and basses in the process of being made. What a precious experience! If I lived in the U.S., I would like to visit the workshop immediately.
After the tour was over, we finally got down to the main topic, the bass that had been offered to us.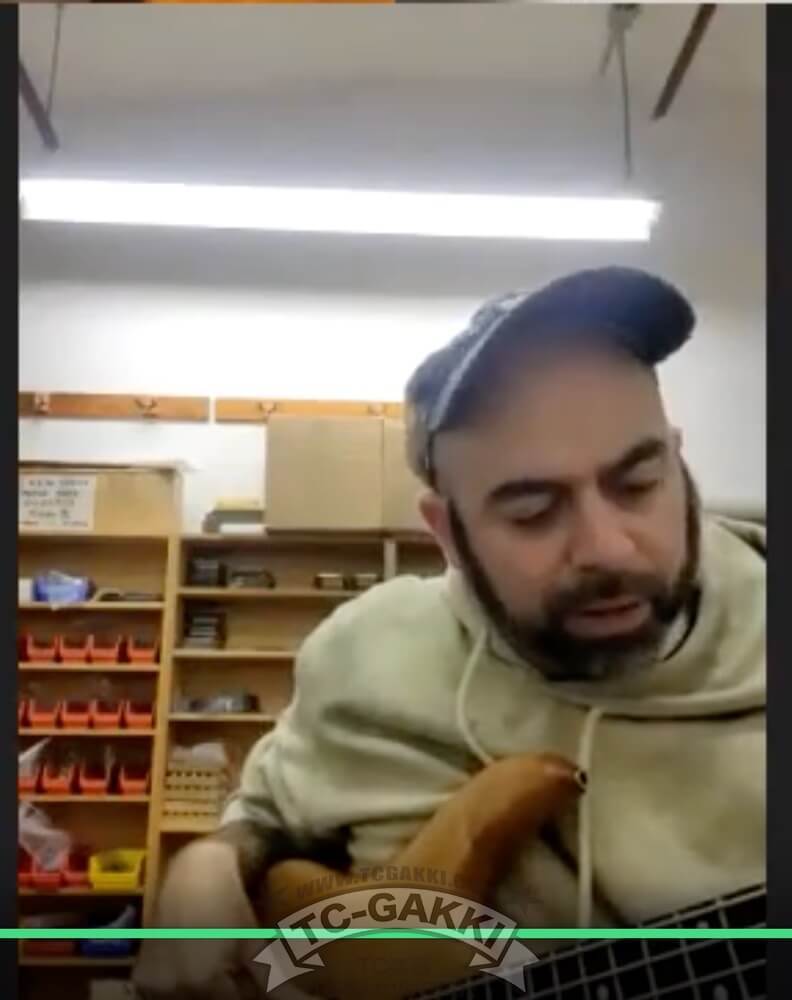 Ken Smith with Vinny Fodera / '82 RG4 (BT4)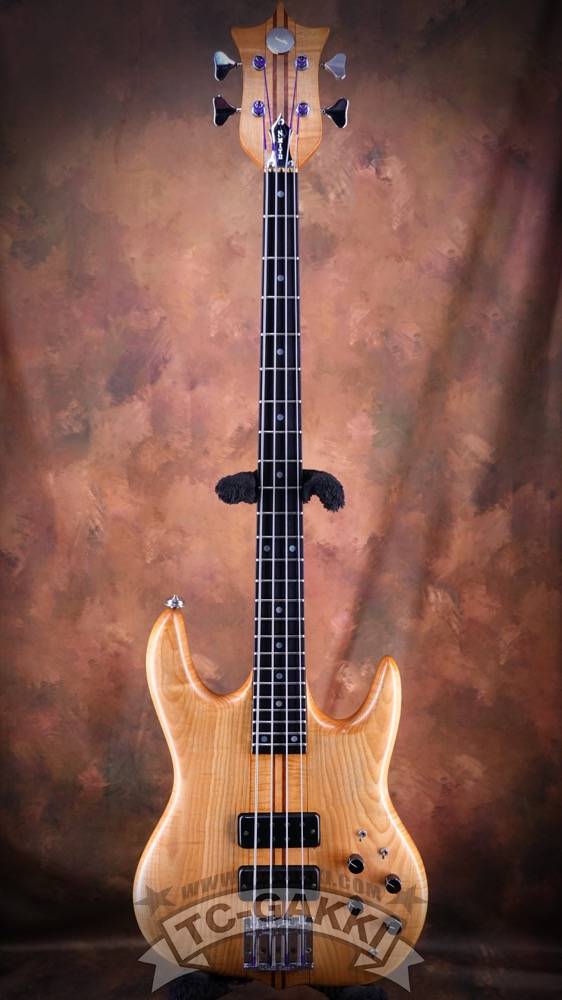 【SPEC】
BODY:Flamed Maple / Mahogany or Rosewood
NECK:Flamed Maple / Mahogany 5P
FINGERBOARD:Ebony
SCALE:34"
NUT WIDTH:37mm
P.U:Ken Smith Original Humbucker
PRE-AMP:Ken Smith Original 9V
CONTROL:2Vol / 2Band EQ / PU SW / Phase SW / Pre-Amp SW
WEIGHT:4.45kg
CASE : Hardshell Case
---
"So now, let me show you the bass.
At this point, do you see how there's no serial number on the fingerboard?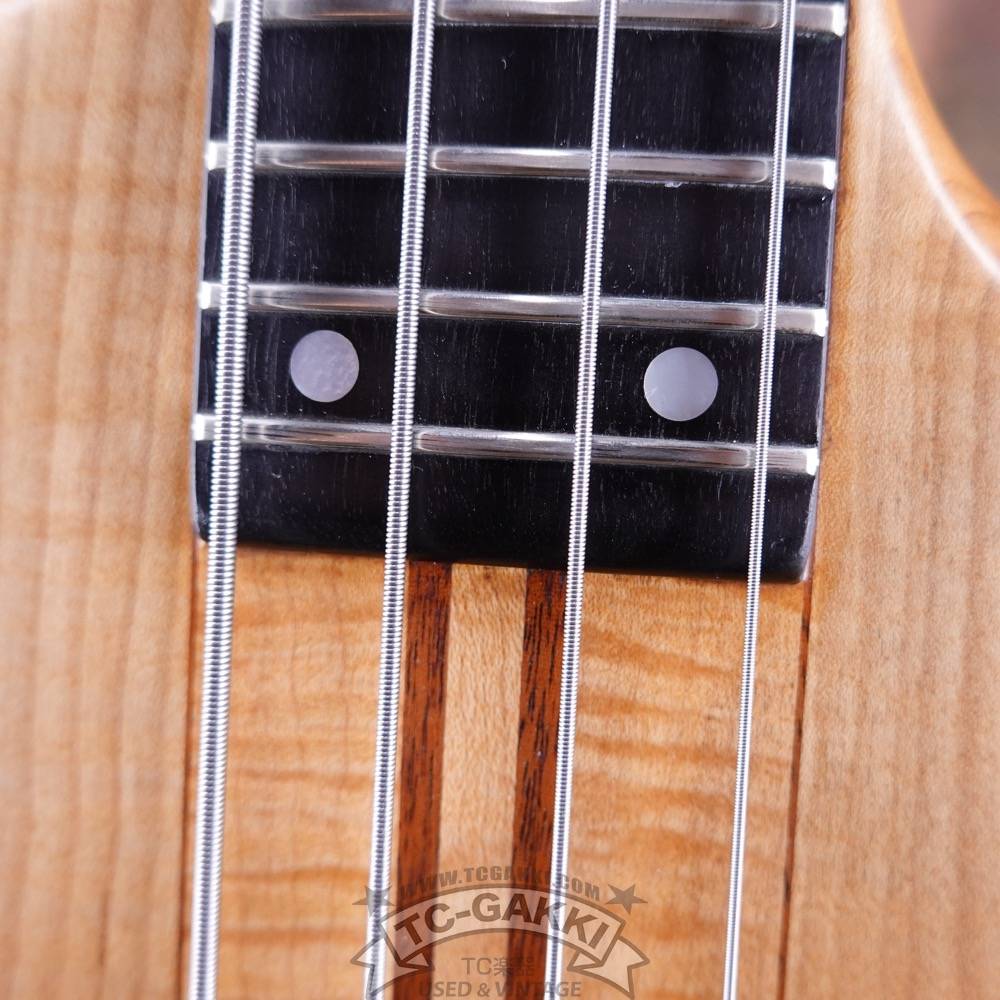 That's because it's so early. Let me show you the rest.
These pickups are modern pickups, but originally, they had the older Bill Lawrence pickups.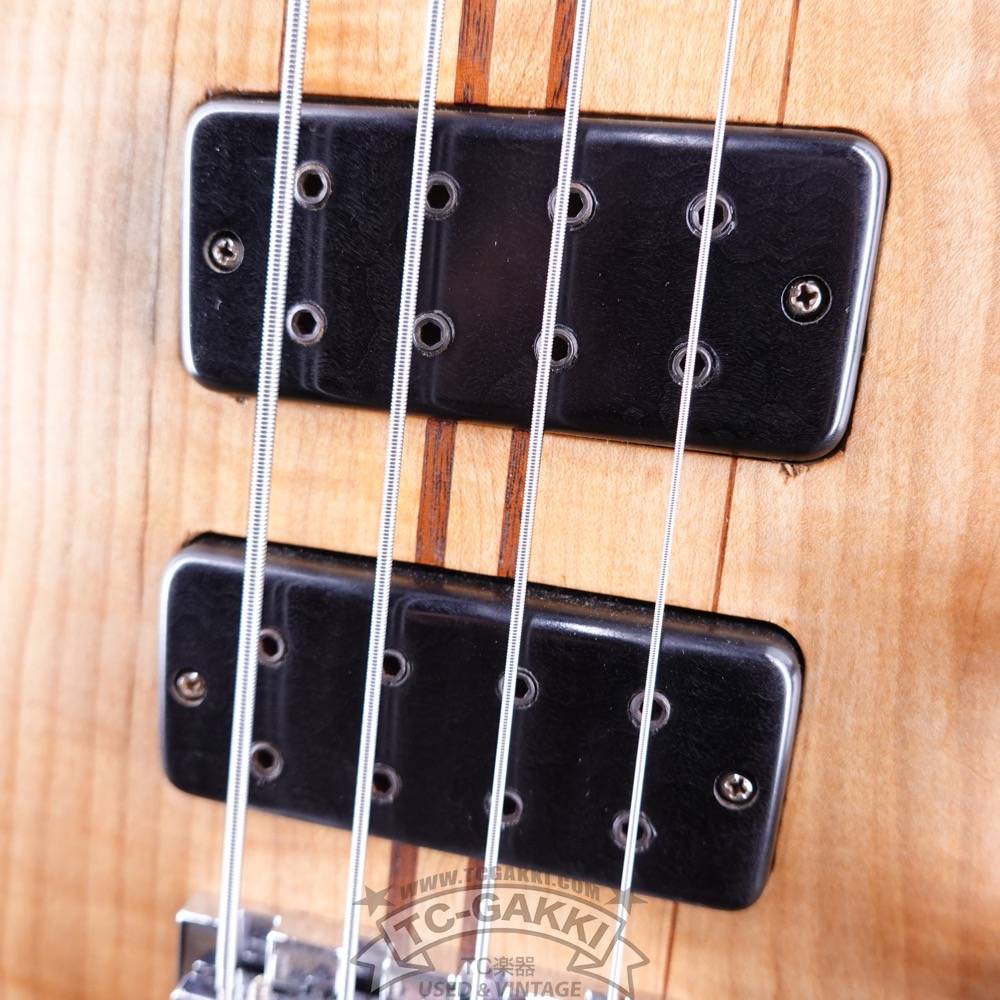 Here is the original bridge he used to use.
He used it until he made his own bridges.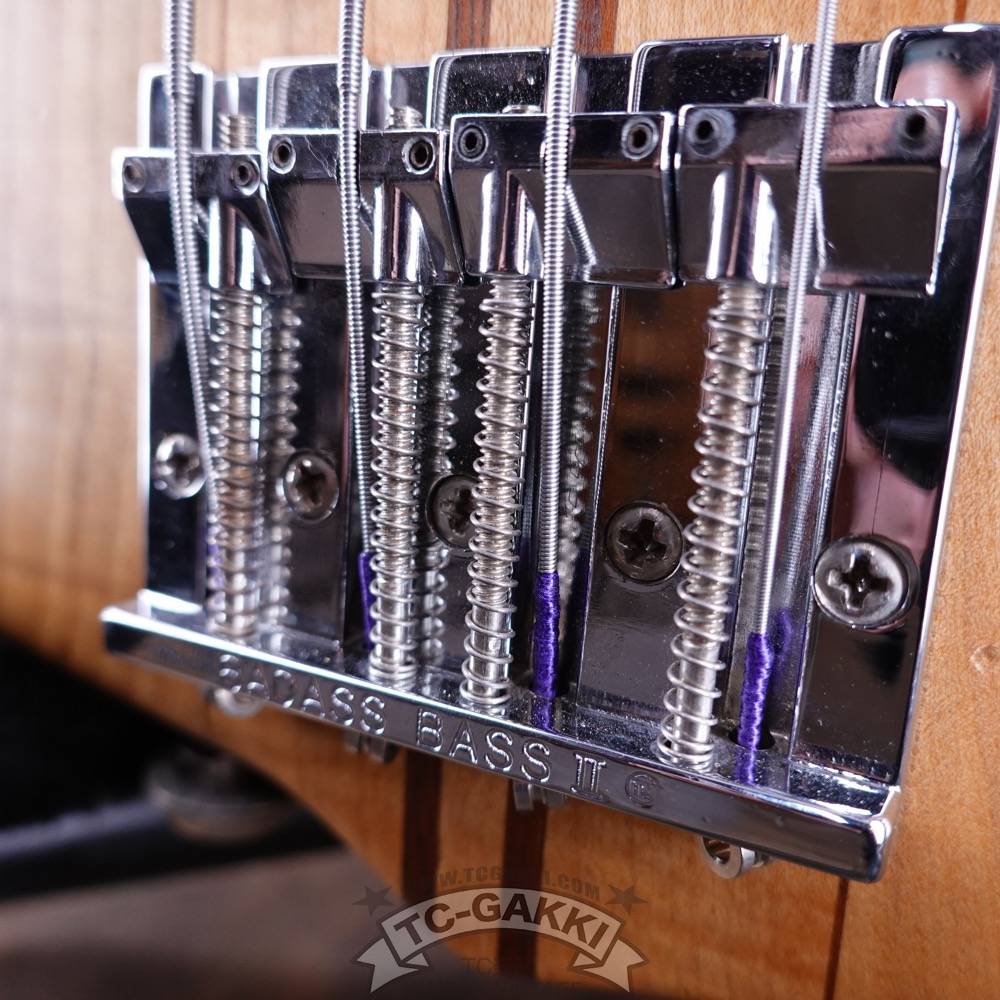 Well, it is true that in recent yearsSmith.The aspect is completely different from that of the
I had seen it in pictures, but when I saw it in person, I felt it more.
"This is how you know it's the Vinny Fodera era because of this back here, you know? Do you see that?
Look at the wooden back plate. It's the original back plate, made of Rosewood."
"So, for example, when he looked up number 64, it was actually made after number 94 because the plates already had the numbers.
So when he started making the new circuit, he still had the old circuit that he was trying to get rid of. The bigger number could be older, up until maybe almost 200."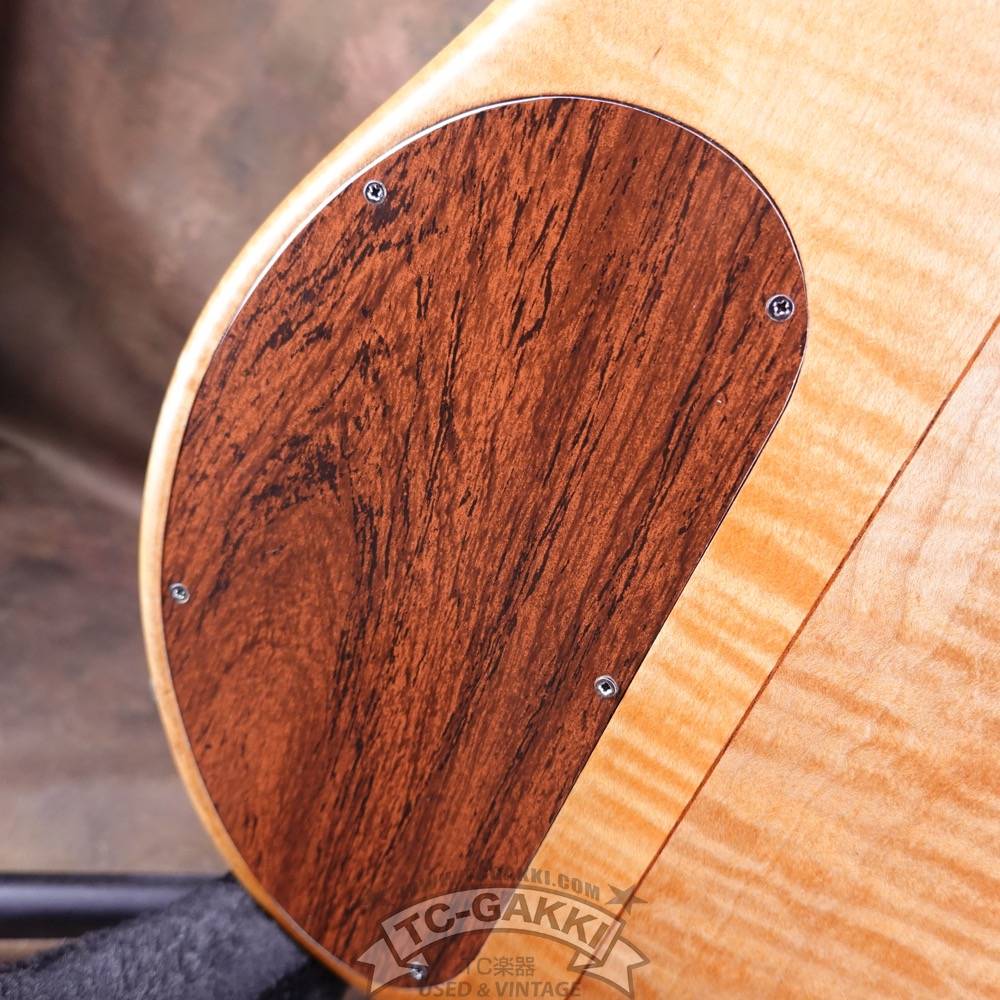 "So, can you see the space from here to here? You get a feel for the size, right? On this one, it's narrower, right? He said, "Hey Ken, can you move the back pickup away from the bridge and closer to the neck? The original pickups were Bill Lawrence pickups."
"RG 4. That was the name of the model.
Now, I think there was a batch where he may have used Bartolini on four or five basses. basses."
"Vinny worked with my dad under a contract, I think, until 1986 or 1987. So this bass was made when Fodera was working for my dad."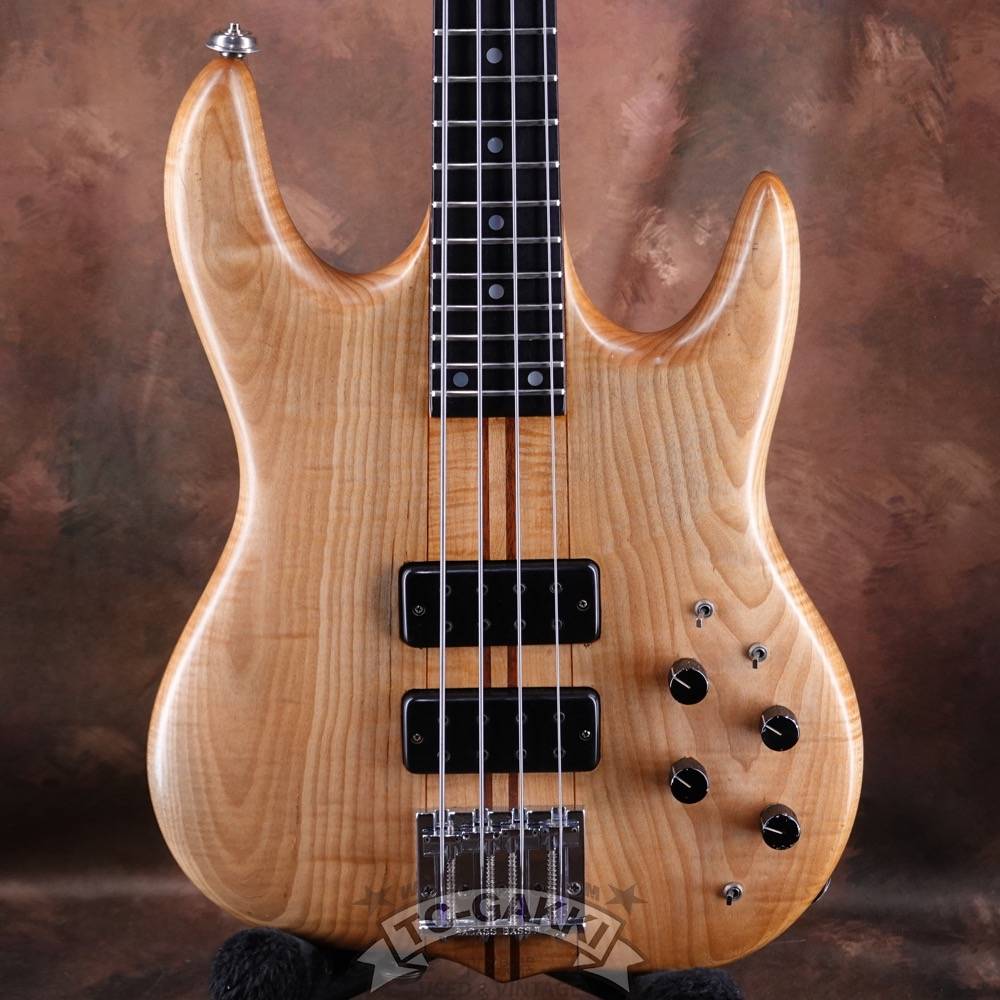 Fodera GuitarsFodera Guitars was founded by1983I believe it was founded in 1949,1986year or1987until the yearKen SmithThey worked together with Ken Smith
at a later date in this video chat,Ken SmithandVinny FoderaI asked again how the roles of the two were divided in the creation of the bass guitar.
"Vinny did the carving and finishes on the instrument...Ken would glue up many of the necks and bodies and do the final setup of the bridge, nut, pickups, trussrod pickups, trussrod."
TC: What was the number of employees working at Ken Smith's workshop in 1982?
"Mainly my dad and Vinny."
Vinny.is in charge of shaping and painting the wood, whileKenwas in charge of gluing, circuits, and set-up, and they worked closely together to produce the product.
In addition, the currentKen Smithbass has a lacquer finish.(2019Polyurethane since 1949)ofElitealso exists, though,1980All the basses manufactured up to the late 1950s were finished with oil finish.
---
Now let's look at1982Made in 1949Smithand2018made in 1949Smithare compared in the following photos and their respective characteristics are described.
The comparisons areBSR 5butBTNote that the body shape is different from that of the


[Comparison of the woodworked parts].
1982Note that the body shape is different from that of theBT4has a sharper head shape.
2018The one made in 2006 is rounded.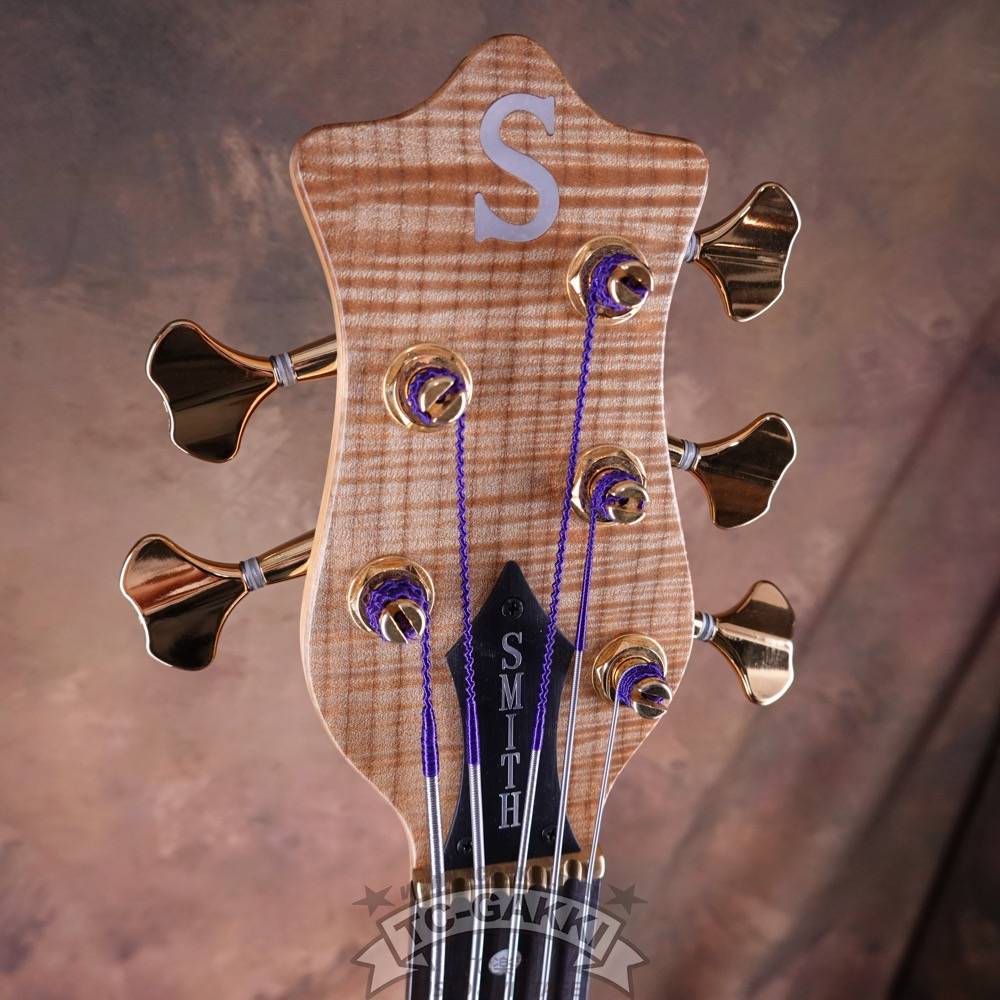 In between92made in 1949 are rounded.BT6remains sharp, but it is gradually rounding out.
Volutes on the back of the neck have been used since this time, although there are some differences in shape.
Of course, it is not a mere decoration, but a reinforcement material for the neck joint at the center.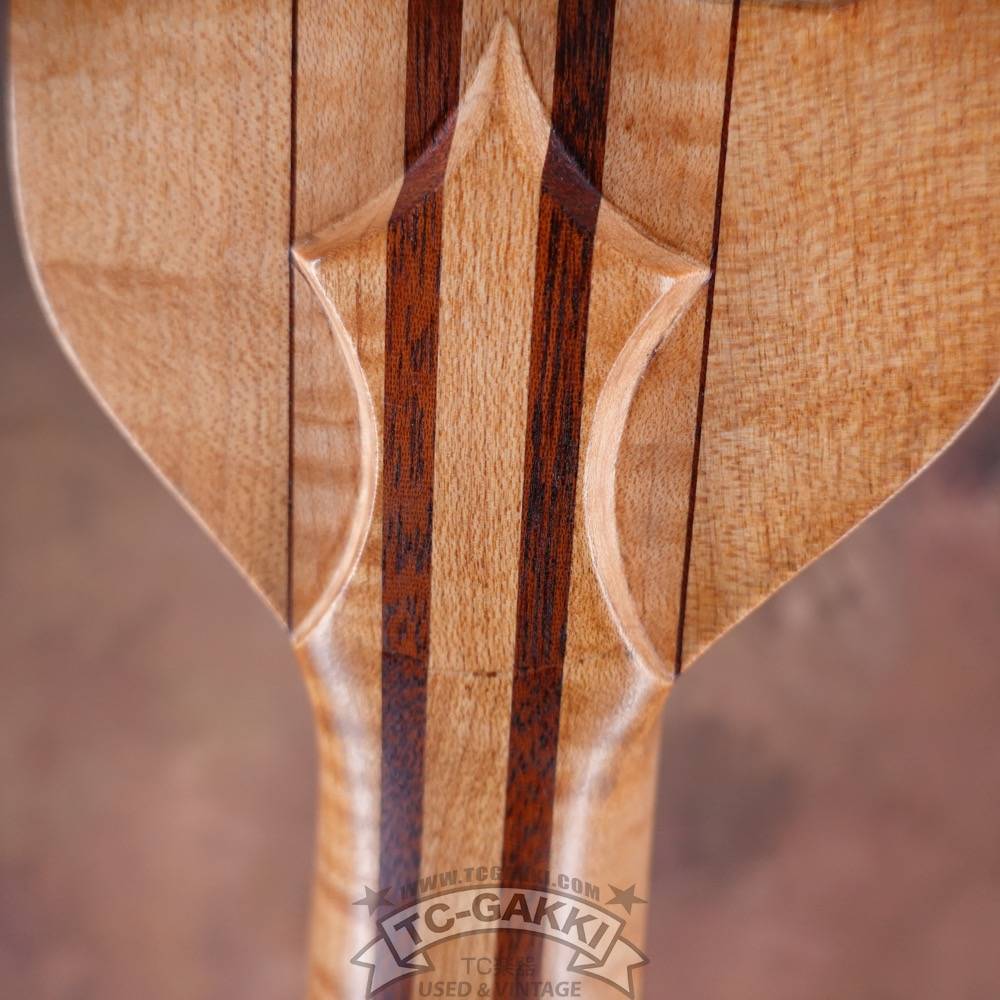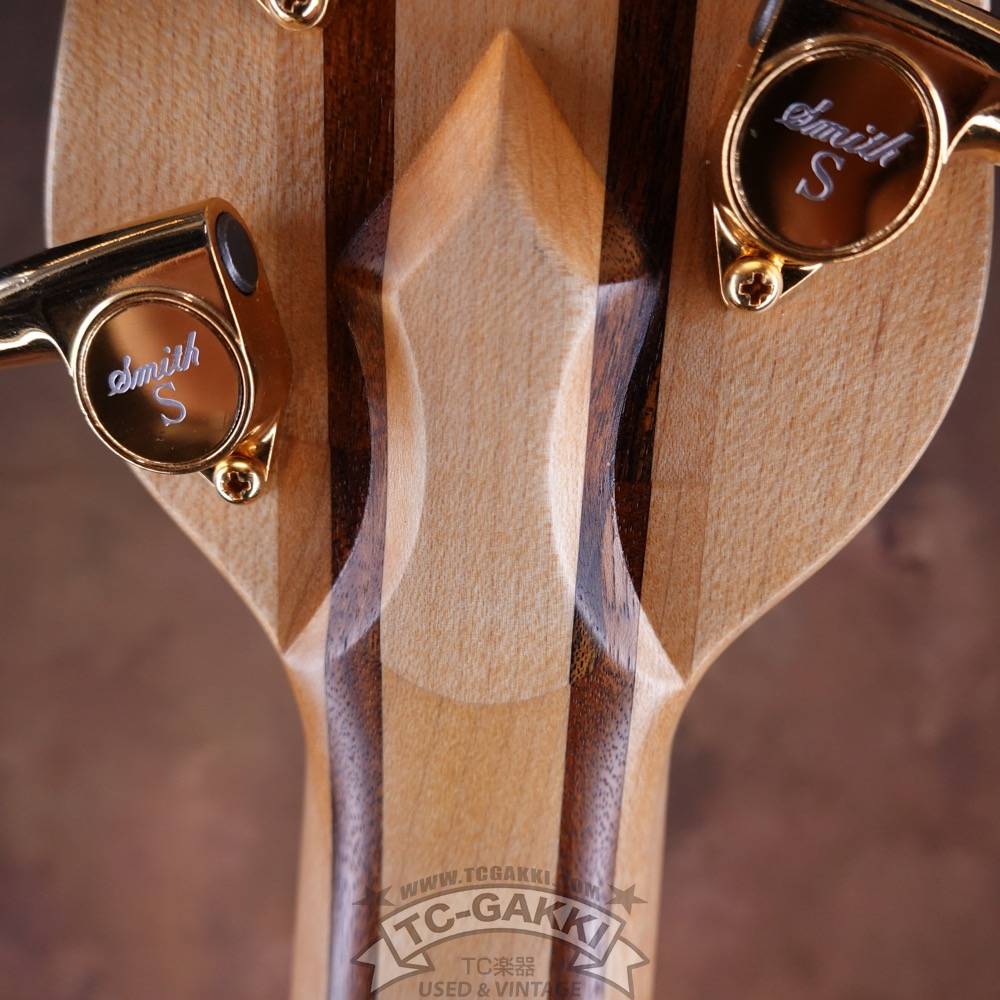 The treatment of the through-neck part differs from that of the current model in that a large amount of laminate material is used.
The through-neck construction with the laminate between the laminate and the neck is the same as that of the current model.Ken SmithThis structure was invented by Ken Smith,Foderaand has been inherited by Fodera.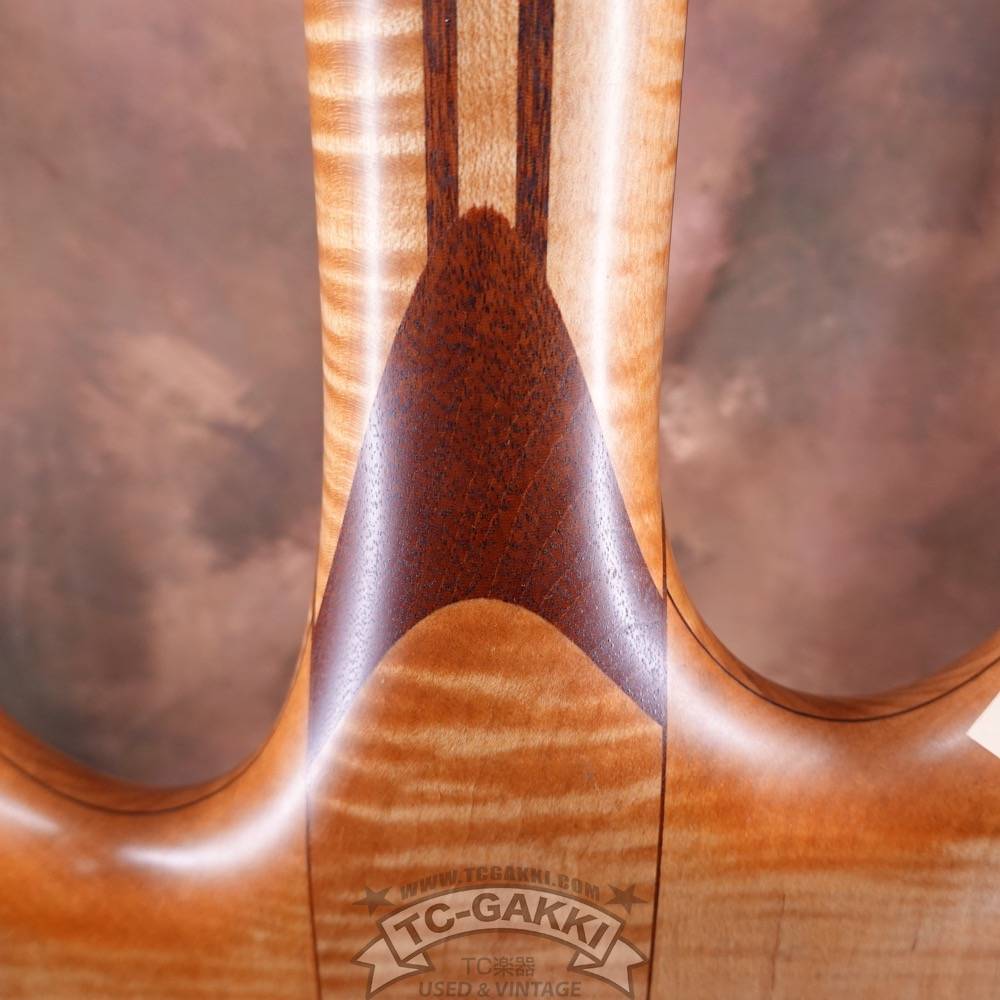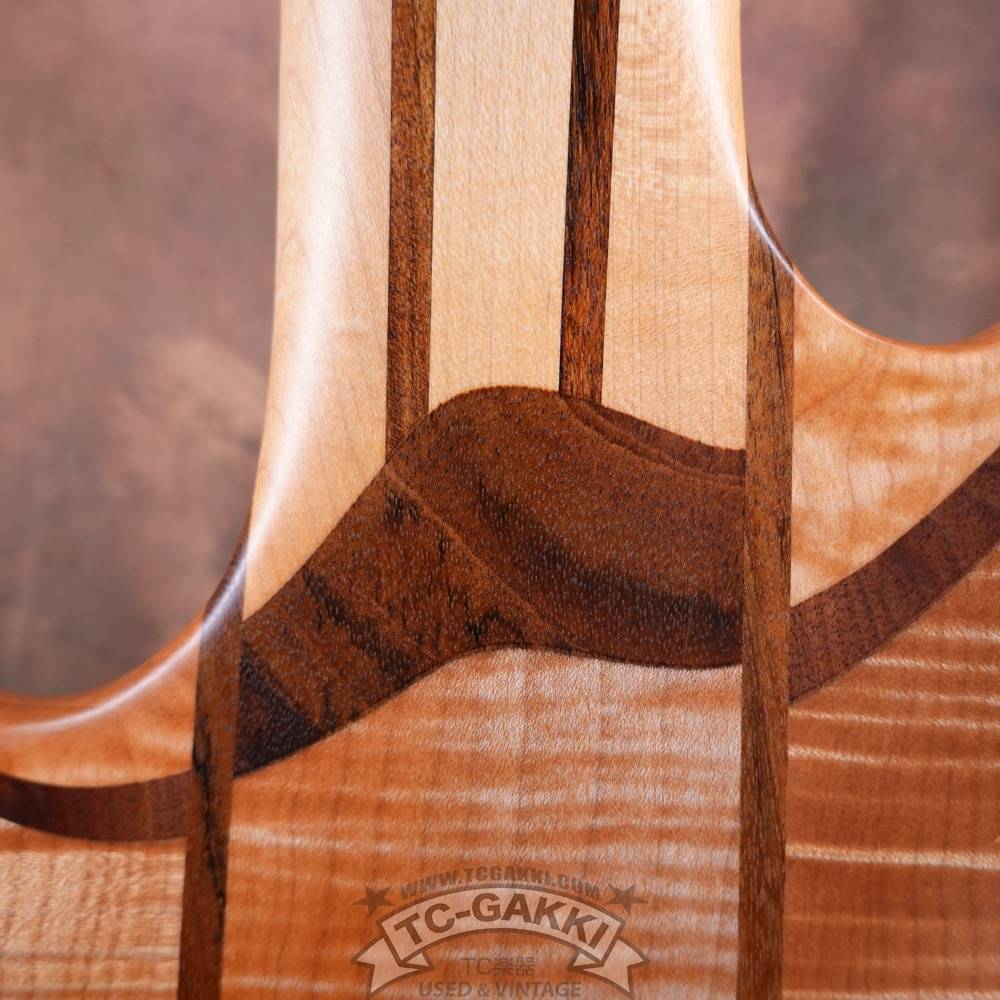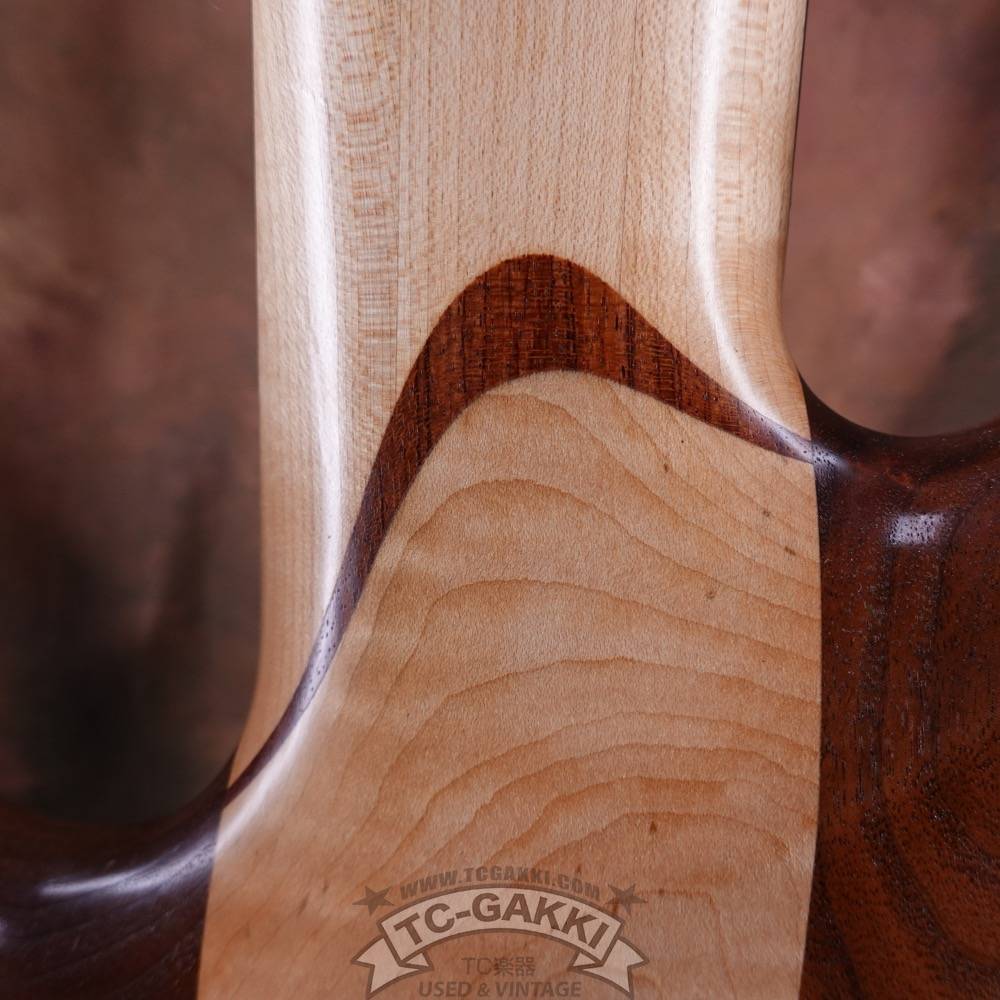 It is called a slip-match structure.3PBody。
Thin mahogany-like wood sandwiched between flame maple is glued to the body.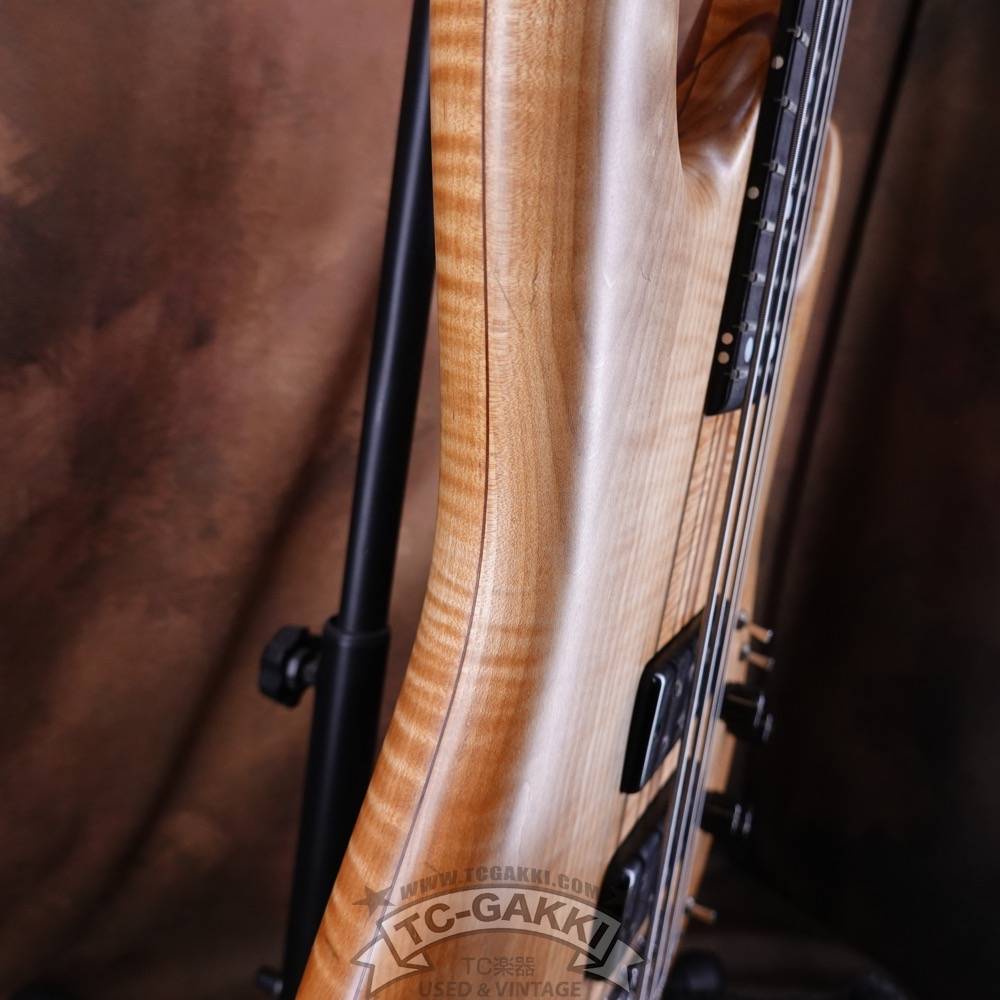 However, the identity of this wood is not known.Ken.himself does not recall the identity of this wood.2000In the 1950s, the following specifications were available for order.
・SOLID BODY
・2P BODY
・3P BODY
・5P BODY
・7P BODY
From these options, any combination of woods could be used, and depending on the wood, the grade could also be specified.Ken.himself says that as the number of body laminates increases, the volume of each piece of wood becomes lower, making it easier to specify the sound character and reducing individual differences as much as possible.
There are also differences in the thickness of the body,1982The year-oldBT4is42mmwhereas2018made in 1949BSR5was38mmin the first half of the year. This change is,KenThis change is not considered to be an important change for Ken, but simply a change made over the years to reduce weight. Note that the top of the body is contoured, which was characteristic of the period.
---
1982The one made in 1949 has a metal plate.SThe same is true of the rod covers, which are stamped with2018The 1949 model is an embedded Avalon, and the rod cover is an aluminum plate.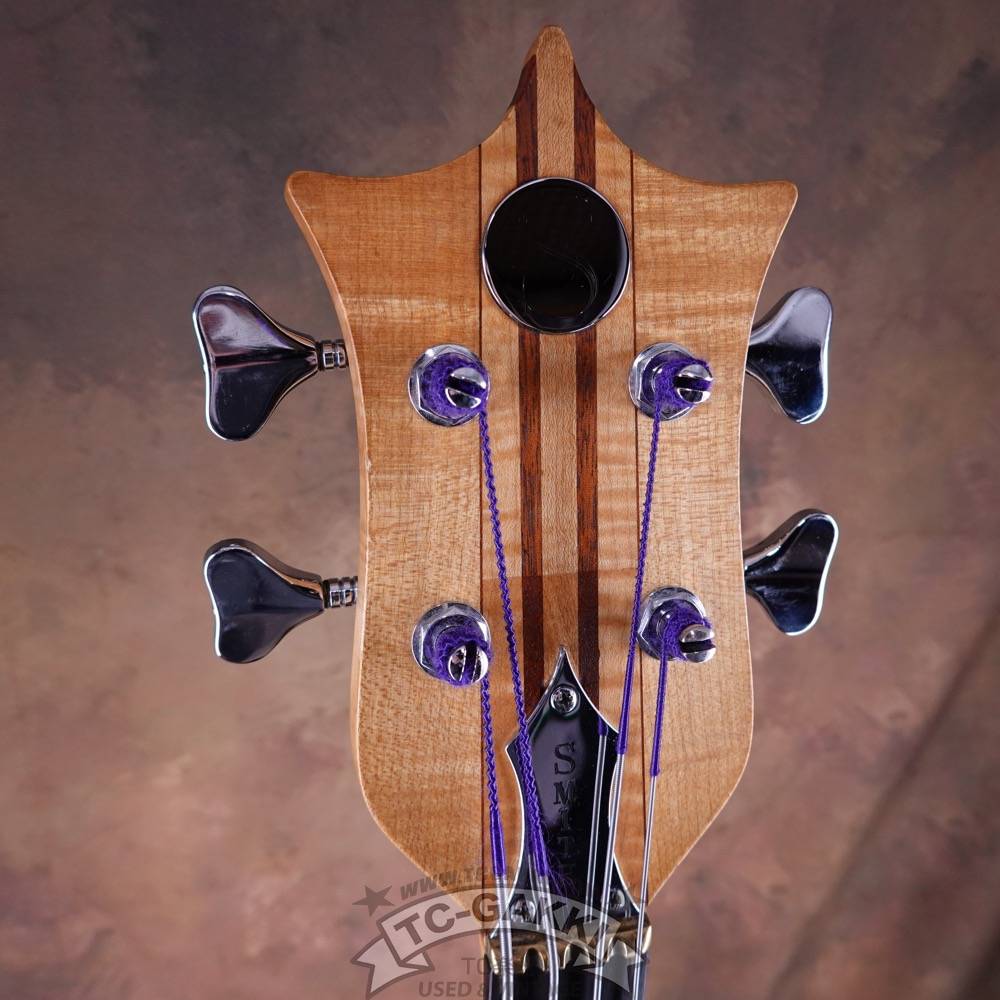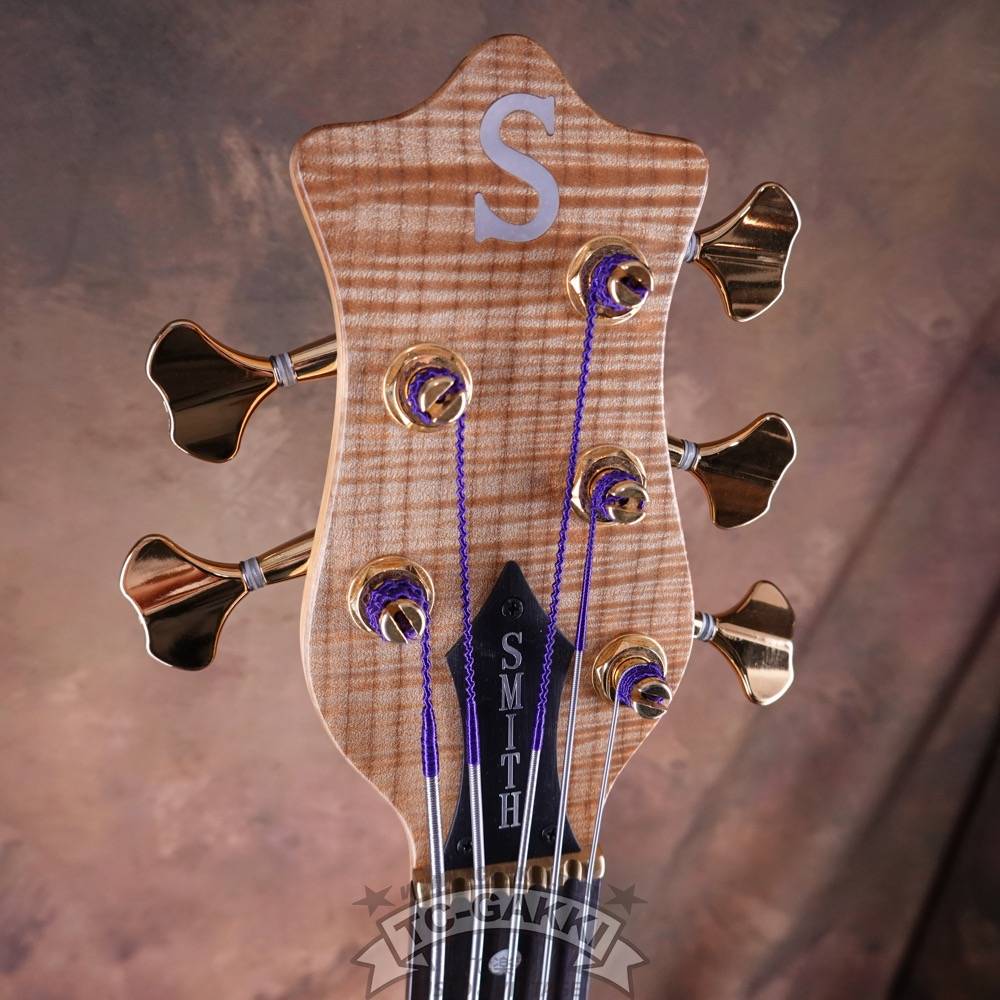 1982The pegs made in 1949 are made by Schaller,2018The 1949 model hasGOTOHsOEMpegs are used.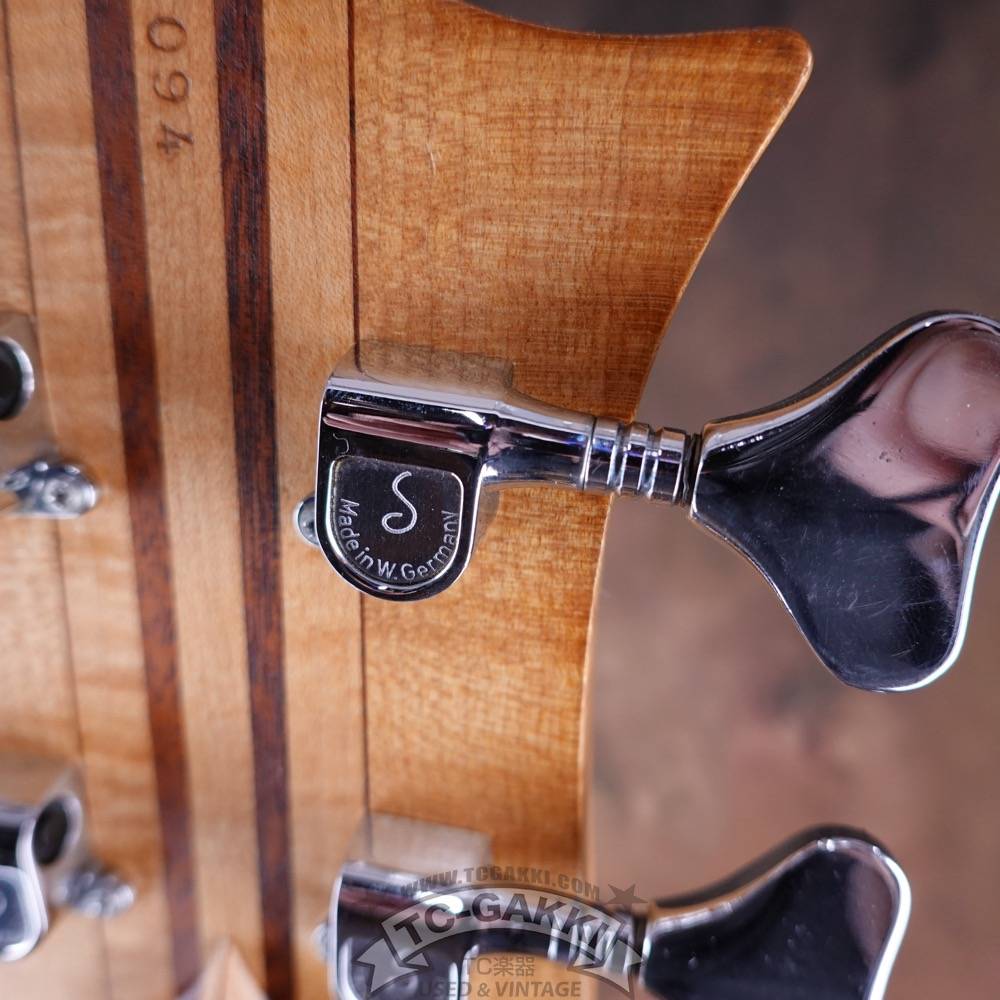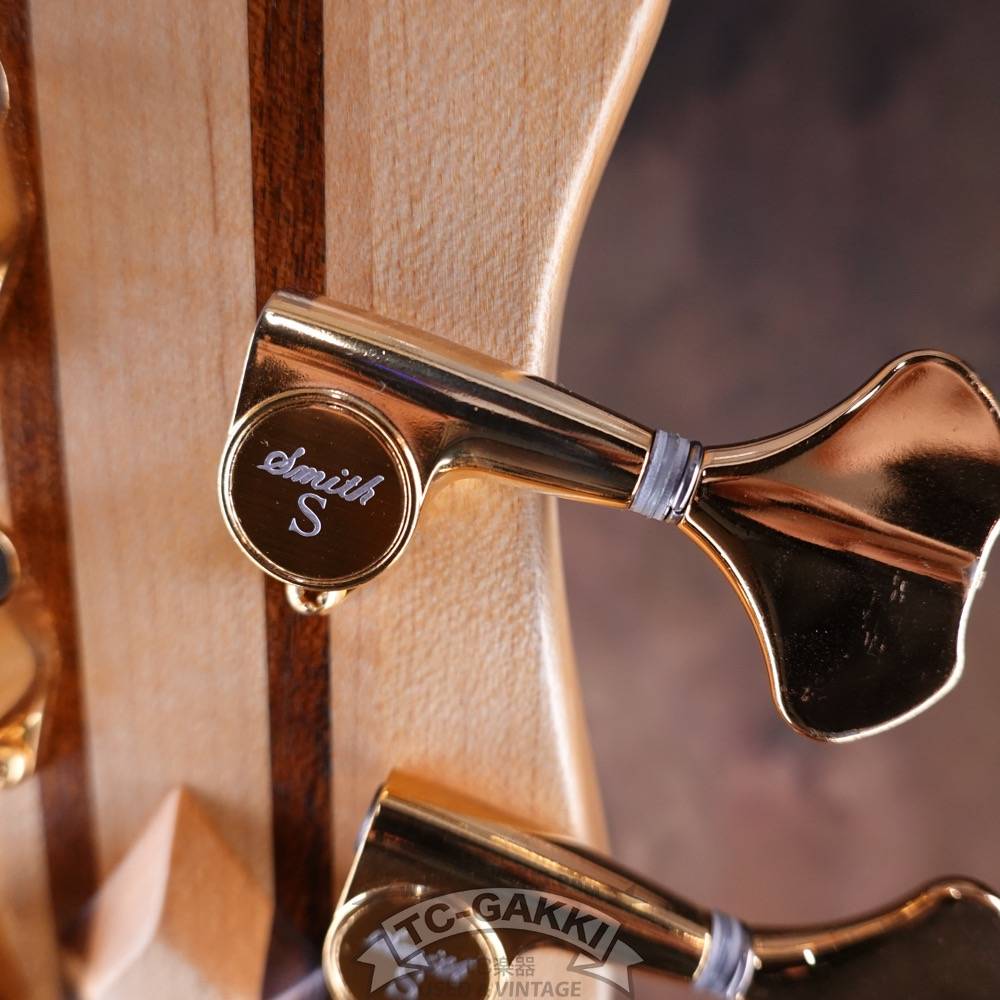 1982In the year 2000, theBAD ASS IIbridge,2018In the year 2000, theKen SmithThe original bridge was installed.
It is quite similar in shape and function,BAD ASSto theKenand has taken on its current form.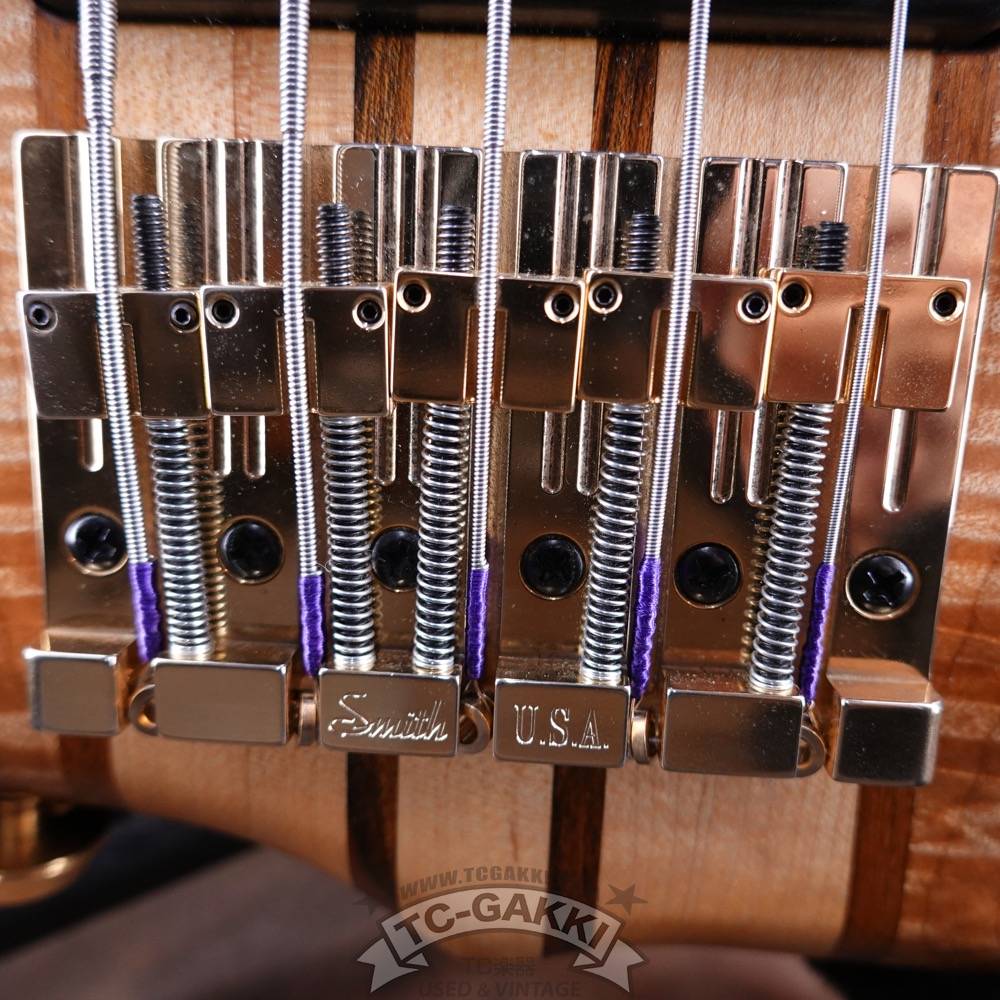 As for the pickups, this unit was originally equipped with Bill Lawrence'sPUbut now it is equipped withSmithThe original is now in use.
What is the difference from the current product,PUcover.Smithlogo on the cover and whether the cover is wooden or not. Both areKent Armstrongand Kent Armstrong.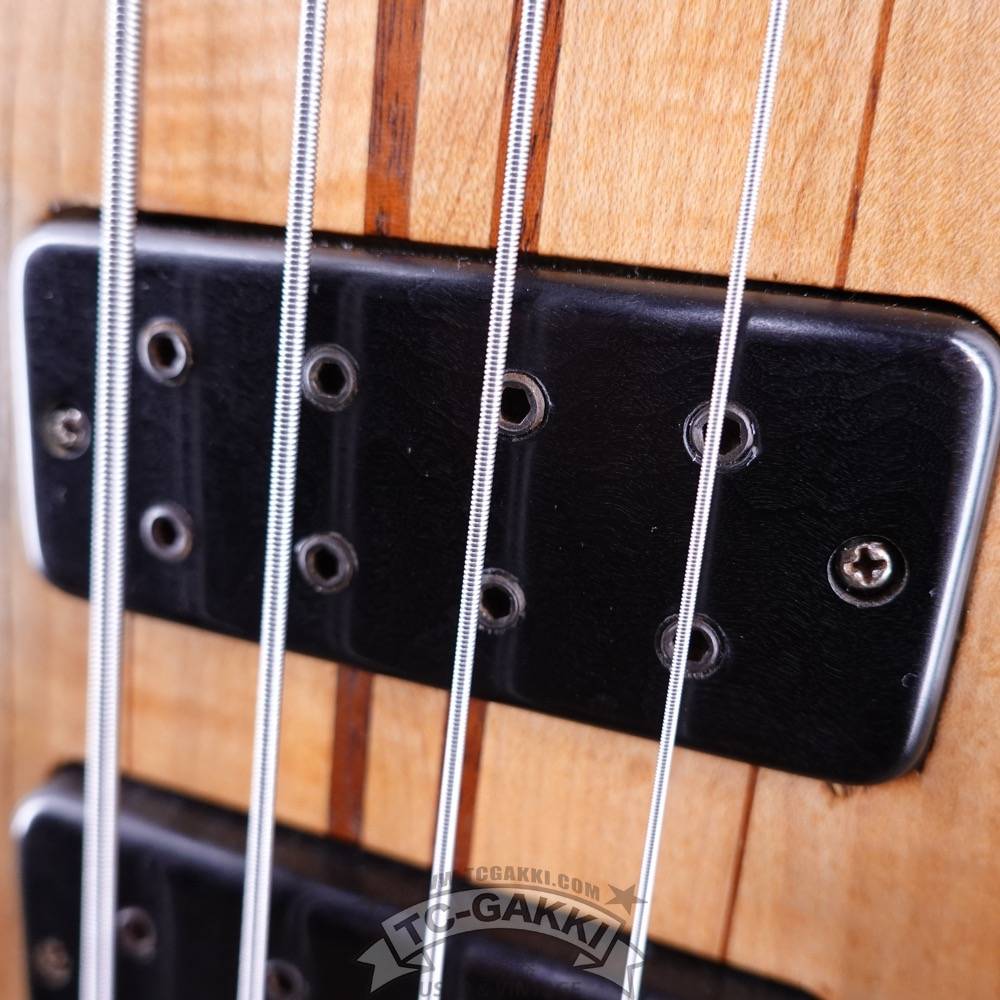 9VatPUselector and the respectivePUvolume for each PU.
The familiar series, with phase switch instead of parallel switch.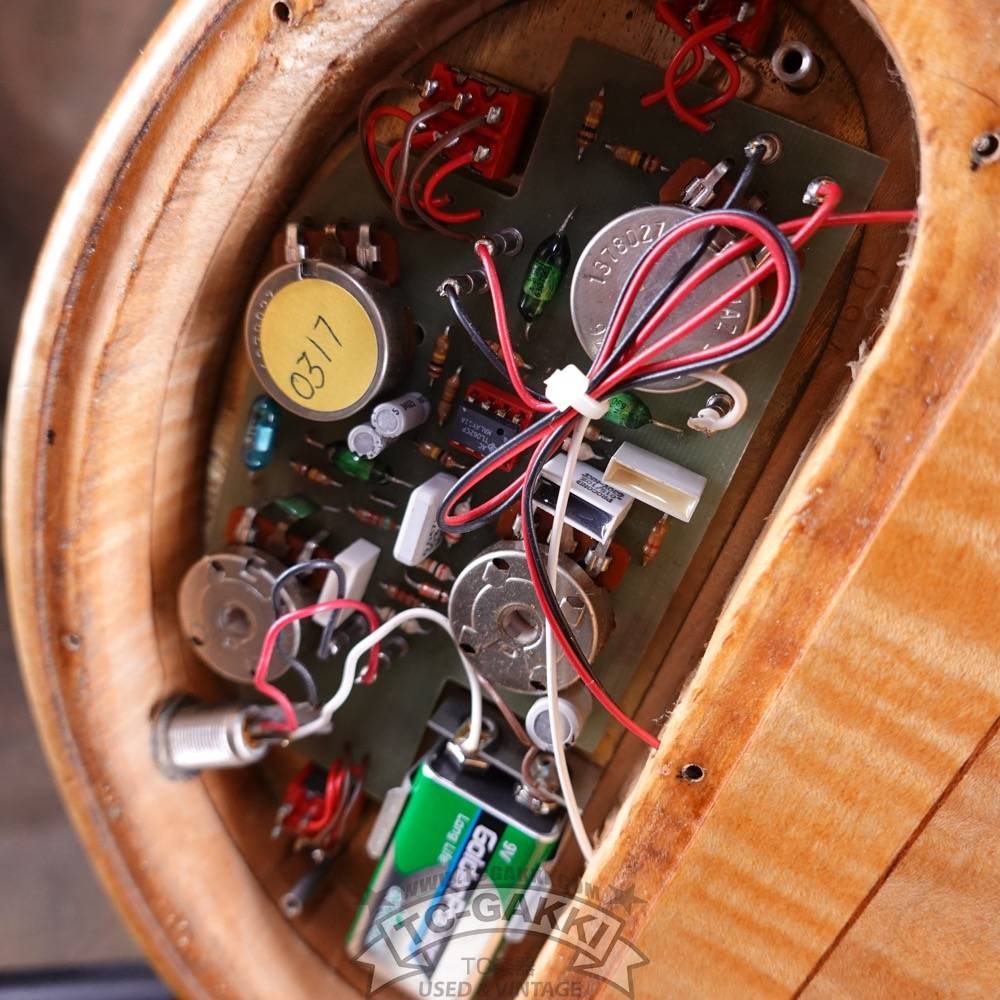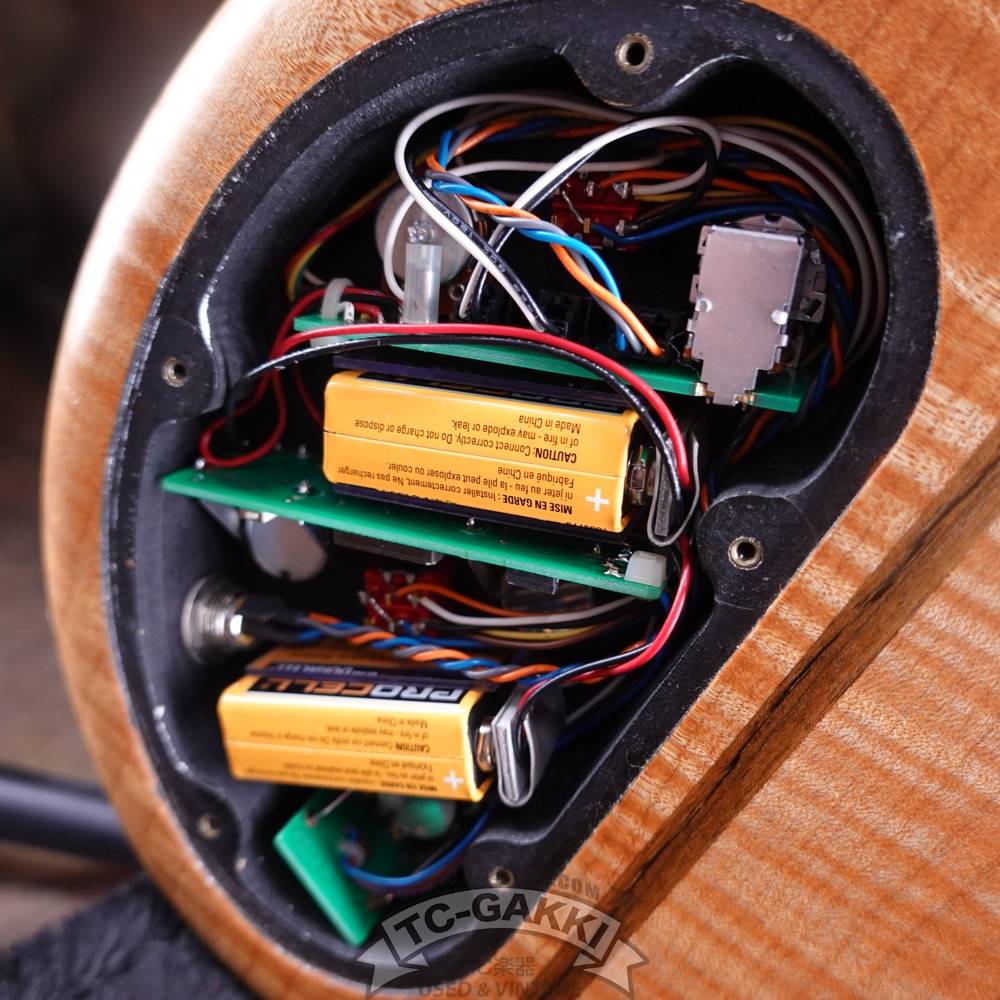 About sound impression. The currentSmithCompared to the current Smith bass, its center of gravity is set rather low, and it does not sound too clean, but rather has a playfulness that is more suited for pop, rock, and funk than for jazz.
Also, in basses, though, we rarely see phase switches,82Year BT4In the BT4, the phase switch can be turned on to thin out the low frequencies and maximize the "kero-kero-kero" feel that is synonymous with the Smith sound, which is exactly what we hear in today'sSmithbass today.
FenderIn the type of bass,4/5/6The sound changes greatly with the strings, though,Smithbass, the difference is infinitesimally small,4Because I want the sound of the strings4The fact that you don't have to compromise in choosing strings because you want the sound of the strings is also a very great point.
Thanks to this wonderful offer, the Ken Smith workshop will become even more attractive. Currently, due to troubles and organizational changes within the workshop, production has been reduced and new products rarely arrive in Japan. However, Ken and Jon told us that they have not lost their desire to offer Smith basses to as many people as possible.

Just a few days ago, they announced that they will end their partnership with Brubaker and complete production in their own workshop. However, I am sure that "Ken Smith" fans, including myself, would like to see the evolving instruments they produce for as long as possible.
TC Instruments Naito